A Date With State
Cross Country Sophomore Takes Third, Boys Varsity Team Places Seventh at Championships
This morning at Old Settlers Park in Round Rock, the fastest long distance runners in Texas kicked up mud and raced their limits for the State Championship. With hundreds of competitors, only the toughest pushed through strong to the finish line. Sophomore Isa Conde De Frankenberg places third with a time of 17:26.3 minutes for the 5K. 
"It feels really amazing to be able to even qualify for State and have a chance to be able to run with amazing athletes from throughout Texas," Conde De Frankenberg said. "I was really excited to come here for a second year in a row, and it was a little disappointing that the girls team didn't make it, but I just had to keep training hard and be prepared for State. I was really excited, but also really nervous because there's such amazing runners out here and it's a really big competition. I definitely wanted a faster time or a better place, but overall, I'm just happy that I even got here and was able to place in the top three."
The varsity boys team placed seventh, with an average of 16:44.2 minutes. Senior Gareth Hopwood placed 20th, with a time of 15:57.2 minutes. 
"It felt pretty good, and it was super exciting [to compete at State]" Hopwood said. "Our goal is always to get to the State meet, and when we found out that we did when we won Regionals, it was awesome. I was really nervous and hyped. [Even though] everybody just felt off today, and we didn't accomplish what we wanted to, I think everybody just tried their best and ran with their hearts, which is all that really matters. I'm glad I was able to [compete] with my team and that everybody was here today."
In order to prepare for State, runners must stay hydrated, eat well and remain well-rested. In addition, the team reduces the amount of workouts the week before, stretches to prevent injuries and ups their carb intakes. Each of the runners also track their own weekly mileage to record their fastest times as well.
"We have been consistent in all aspects of our training sleep, nutrition and hydration," junior Isaac Plotts said. "We've run 50 miles a week since June, and we've put in 1000 miles for a 15 minute championship. In June, we decided that we wanted to make it on the medal stand and we have worked so hard for that."
Both the boys varsity team and Conde De Frankenberg have raced against their competitors, however, according to sophomore Matt Wright, it is more important to focus on themselves rather than others' times.
"We have seen most of the State-bound teams in Regionals this year and State last year, but most teams have changed, so it is hard to really determine other school's fitness levels," Wright said. "Personally, I tend to avoid searching other school's racing results and times because all the important information about other schools generally comes from our coach. I think that looking at times and results can take away from being able to focus on ourselves."
The boys varsity team placed first in District and in Regionals, with a split average of 17:09 minutes for the 5K at Regionals.
"I'm confident in saying that our whole varsity boys team is happy with the way our season has gone so far," Wright said. "For the most part, we've been able to stay healthy, letting us improve a ton this season. We have a streak of winning at the district level, but last year we got second at Regionals, so it feels good to win this year."
At Regionals, which was held in Corpus Christi, the boys varsity team beat last year's scores. Due to the difficult running conditions, the times were faster by a few seconds, but the overall score was 50 points, compared to last year's score of 80 points. 
"It's always amazing to win with this group, and Regionals was no different," senior Mark Lucas said. "However, we've won Regionals before. It's the expected result for us. Cedar Park is a winning school. The times were slightly faster, but it's a hard course to compare times on due to the harsh conditions of running in Corpus Christi."
At District, the girls varsity team placed second and advanced to Regionals, where they placed sixth.
"It felt really good to place second in the District meet," senior Reese Barucky said. "The girls' team worked so hard leading up to this point, and it put us in a place where we felt confident in our ability to run well. As a senior, this moment was also bittersweet for a lot of us because the District meet marked the beginning of the end of our time with Cedar Park cross country."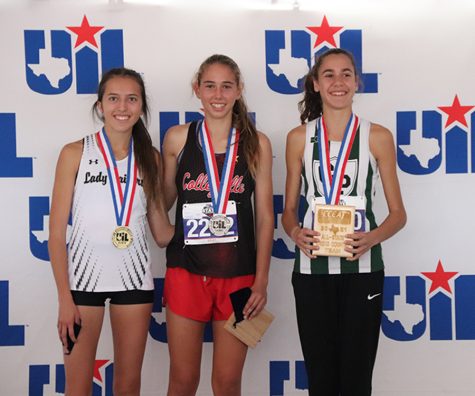 Conde De Frankenberg advanced individually to State again this year after winning a gold medal at the State Championship in 2020 with a time of 17:10.65 minutes. This year at Regionals on Oct. 25, she placed second with a time of 18:36:20 minutes. 
"I have faced the challenge of having somebody very dedicated and competitive run by my side and push me through District, Regionals and State," Conde De Frankenberg said. "As much as some may want to beat me, I want to beat others as well. There are so many great runners that are so much faster than me, so I still have a long way to go."
In addition, she has set multiple school records. This year, Conde De Frankenberg ranks first for 5K, with a time of 17:07.6 minutes, 4K and three miles, beating all previous school records by at least a minute.
To continue preparing for State, Conde De Frankenberg runs with the varsity boys team.
"I think [the boys] are a great team to run with because they are all very determined to succeed in running careers through high school and college," Conde De Frankenberg said. "We share similar goals and passions for the sport, therefore I enjoy being able to run with them."
After State, the teams start from scratch and begin training aerobic, mobility and strength exercises in order to prepare for future races. According to Plotts, he has found a connection with this team that he has never had before. 
"We've run together on beaches in Port A, corn fields in Taylor and mountains in Taos," Plotts said. "Outside of running, we have dinner together, go on trips and genuinely enjoy each other's company. Nothing is nothing until you make nothing into something and that's a great representation of our team culture. How we do everything is how we do anything. I love this team so much and I know they love me back."