Boys Basketball Wins District, Moves On To Playoffs
Hang on for a minute...we're trying to find some more stories you might like.
They had already been named district champs, but they were wanting to go undefeated to prove that they truly were the best team in the district. After losing in the first round of playoffs last year, the goal in mind at the beginning of this season was not only district champs, but a longer playoff run.
This senior class has been through many games, from 30 point wins to 30 point losses. This year, they've remained on one side of the spectrum, as they won 26 out of 31 games during the regular season. They have a dynamic offense, which averages 59.2 points per game, and a strong defense, which allowed 48.3 points per game on average.
Their last test of the regular season came on Feb. 12 against Pflugerville Connally. Going into the game, the T-Wolves were 26-4, and 11-0 in district play.
Seniors such as Karson Cater, Ethan Kieke and Zach Herboek stepped onto the court to play their last ever game in the Timberdome. The stands were packed, and the only thing in between the T-Wolves and an undefeated district season was the Pflugerville team and 32 minutes of straight work.
"I know we all felt a little nervous going into the game because of what was riding on it," Kieke said. "We knew we were one win away from doing something no other team had done in school history, and we all knew it was our last time playing in that gym together so we couldn't let that impact us and we just had to play our game."
Once the game finally tipped off, everything seemed to calm down, except for the crowd. The crowd was riled up and they were excited to support their team as they closed out the regular season at home. When the game and energy picked up, the pack was ready.
"The atmosphere was awesome, and all of us seniors had family there," Cater said. "For myself, my cousin that I haven't seen in awhile, so it was great to play in front of her and the rest of the fans that traveled to watch our last game at home."
The team came up short against the Cougars, to finish the season 11-1 in district. Despite the loss, the team still won outright district champs. The fans supported the team until the end, and the crowd will only get bigger from here, according to Cater.
"There was great energy within the team and the crowd," Cater said. "That was our biggest crowd we played in front of all year so we knew we needed to play hard and play well, but unfortunately we came up a little short."
Despite their first district loss coming at the tail end of the regular season, the Timberwolves still roll into playoffs with a district title under their belt.
"To be district champions is amazing," Kieke said. "It's something we've all been talking about since we were kids, so to finally live it out was an amazing feeling. Pre-season rankings had us not even making the playoffs, so to come in and do what we did felt really good."
The Timberwolves have made the playoffs for 10 years straight, but this year, no one is expecting an early round loss from the team, as they've ranked higher on MaxPreps in opposition to past years. A 26-5 record brings the T-Wolves to face Eastview in the first round of playoffs on Tuesday, Feb. 19 at Liberty Hill High School.
About the Writer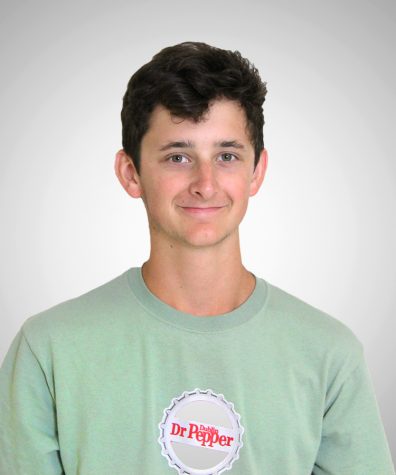 Noah Hedges, Reporter
Noah Hedges is a Junior. This is his first year on the Wolfpack Staff. He's in the drumline here at Cedar Park, along with being the kid who plays the drum solo at half-time during Football games. He enjoys writing about Music and Sports. Noah wants to march drum corps in the future and study Music Performance and Education at the University of North Texas. Following college, he wants to teach and arrange music for High School Bands and Drum Corps.