Boys, Girls Swim and Dive Team District Champs and Heading to State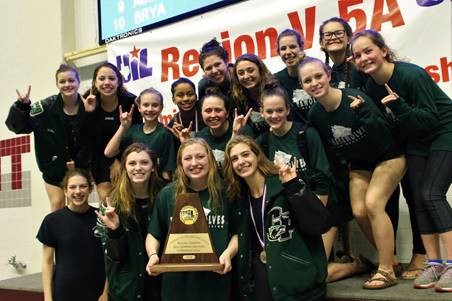 Both boys and girls teams were crowned regional champs at the 5-5A swim and dive meet in College Station over the weekend. Out of the 32 swimmers that advanced to Regionals, 27 of them are headed to state.
Along with breaking four school records, five relay teams, 11 individual swimmers and one diver qualified for the state championships on Feb. 16-17 at UT Austin.
"Being regional champs was a fun, but a sad moment to be apart of, knowing that it may have been the last time some of the seniors would ever swim," senior Dominic Toledo said. "It's good to know that all the hard work and hours that we've put into swimming paid off."
Going into state, the team is working to perfect the little things like faster starts, turns, underwaters and breakouts to make their races faster, according to senior Lauren Partridge.
"For state, I will do something called taper, which is when my coach will drop down the intensity in the pool and make practices easier and shorter," Partridge said.
Toledo said that many of the swimmers know what they need to accomplish to meet their goals for state are looking forward to their competition.
"I feel relaxed, because although I know I have a lot of work I need to do in order to get faster, I know that my coaches will help me reach the level I need to be at and help me prepare," Toledo said.