Continuing a Legacy
Senior Ben Bell Wins State Championship, Extends Cedar Park's Streak of Having a State Champion Wrestler to Three Straight Years.
For the third straight year, the Timberwolf wrestling team has a gold medalist. Senior Ben Bell won the state championship for the 220 weight class on Feb. 22.
Bell's brother, Levi, won the state title in 2018. Bell says his brother taught him a lot this year and helped push him through.
"I had a legacy to uphold," Bell said. "I had to carry [the streak] on."
Bell fell short of the state title last year, finishing third, but spent this season pinning opponents left and right.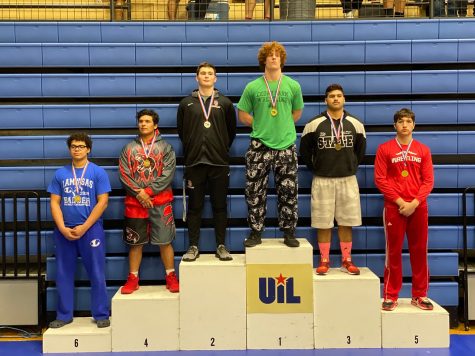 "This title means a lot to me because I was so close last year," Bell said. "The whole experience was crazy."
Being a multi-sport athlete, Bell had to spend a lot of time in the weight-room and on the mats perfecting his technique.
"My key to success was having a good workout partner, Ronnie Caldwell," Bell said.
Caldwell, who is also a senior,competed in the wrestling state championships for the 182 weight class, finishing third in the state.
"It being my last year in high school, wrestling at state was very nerve-wrecking because I knew I didn't have another year to prove myself," Caldwell said. "When it came down to crunch time, I thought of it as a regular tournament."
Having two wrestlers finish in the top three of their respective weight classes is an accomplishment in and of itself. Besides Caldwell and Bell, the T-Wolves also had three wrestlers place in the tournament: senior Justin Garza finished fourth, sophomore Aiden Burke finished sixth and senior Cassidy King finished seventh.
King came into the tournament undefeated, sitting on a 42-0 record. She fell in her second and third matches to the second and fourth ranked wrestlers in the state, knocking her out of the tournament.
"It was definitely hard coming off that mat and not getting my hand raised," King said. "I would say my proudest moment in the tournament was only losing by three to the two times defending State Champion. I wrestled my hardest and even in that match and I'm proud of how I did."
King will be attending Texas A&M in the fall and plans to continue her wrestling career. She said she doesn't expect her season to be as good as it was this year, and said she feels she has something to prove going into next season.
"Something my coach has told me over the years is you either win or learn and even though it is cheesy, it pushes me to be even better and learn from our mistakes," King said.