Cross country crosses the finish line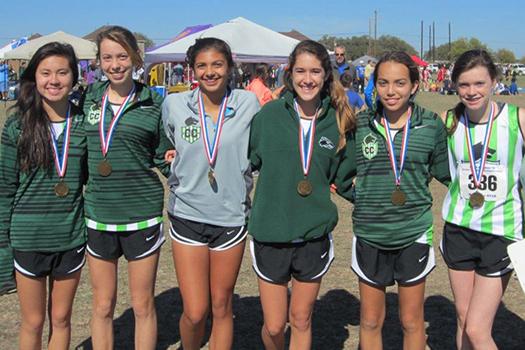 Cedar Park High School's girls cross country team recently made it to the UIL Texas State competition along with 49 other schools.
Six students from CPHS made it to State, five of them are sophomores and one is a junior.
The state competition will be held on Nov. 8 at Old Settlers Park in Round Rock, and the CPHS girl's conference will be held at 11:30 a.m.
One of the girls competing is sophomore Candelaria Conde de Frankenberg, who is proud of her team from the previous competition.
"My experience was great, and I'm very excited we made it since it was a very big accomplishment," Frankenberg said. "Competition was rough, but we managed to pull through District and Regionals to make it. State will be a hard and nerve-racking race, but we all have to try our best."
Another excited CPHS cross country student is sophomore Brea Givens.
"I am excited for state, knowing that we have achieved our goal of making it to State and getting to experience something that not many people get to," Givens said. "The competition at State is going to be very tough because only the best teams and individuals make it. I'm really enjoying cross country this year because everyone on the team is friends and we are all dedicated."
Yet another cross country girl is optimistic about what to expect at state competition.
"I've always liked cross country and I'm very excited," sophomore Sarah Pia said. "It may have been a hard year, but I have full confidence my team will try their hardest."