Girls Cross Country finishes second in state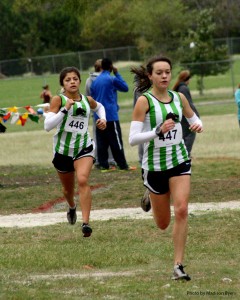 Worn sneakers hit against the gravel path in the early morning practice. Miles left behind them, and miles left to run. Sweat scurries down their focused faces. The fast beat of their heart pounds and their knees tremble, but this doesn't stop the varsity girls.
The season was a lot of hard practices and bonding time for these girls. The team won the title of district champs and placed first in the regional meet.
"I'm very proud of the team, it was a lot of pressure on me since I was injured but, we went out and did the best we could do in the district meets and in regionals." junior Brittany Innis said.
After winning regionals, varsity had a lot of pride moving onto the state meet.
"We can't control how fast the other teams run or how good the weather is, but we can go out do run to the best of our abilities," senior Brianna Menard said. "Hopefully our best is good enough to medal or even place first."
The state meet was at Old Settlers Park on Nov. 10. The girls placed second overall with the final decision coming down to the sixth runner because the first five were tied. Dallas Highland took first.
 "I was very proud of myself to run in the state meet," freshman Dakota Ramsey said. "Just being a part of the team and getting to run in such a big meet is a great feeling."
Ramsey ran in the regional meet and in the state meet. Freshman Brianna Grabill ran for varsity in the meets until she was injured. The other freshman girls that practice and travel as alternatives with the varsity team are Sydney Carrico and Bailey Heffner.
"This season, I enjoyed getting closer with all the girls and getting the chance to run in the varsity meets," Grabill said.
The varsity girls have put in a lot of practice and hard work to get them where they are. They got the chance to show off all they had at the state meet. The season is now over and they will begin training for track season.