Freshmen football on the mend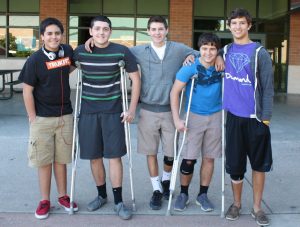 There has been an unusual amount of injuries among the white and green freshmen football teams this season. With several first-string players being benched, everyone is wondering how it's affected the freshmen season, and how so many kids are injured.
Freshmen football coach Clint Hormann chalks up the teams significant injuries to just plain bad luck.
"It's unfortunate because they are good guys," Hormann said.
For some freshmen players it has been a long season on the bench. Green team right tackle Aaron Richter fractured his hip at the first game of the season against Westlake and has been out for the entire season. Fellow green-teamer running back Baxter Robertson is upset about being sidelined with a torn ACL for at least four months.
"You can't really do anything except watch people play football," Robertson said.
Despite their injuries, the freshmen boys are optimistic about playing next season and are content with taking the elevator to all of their classes.
The misfortune of the sidelined players is hurting the entire freshmen football program too. The chaos that comes with replacing injured players and rearranging the white and green teams has been a major setback according to Hormann.
"It's been difficult to gel as a team because of the personnel change," Hormann said.
Even though it was difficult in the beginning, Hormann also claims this year's injuries have had a profound effect on the entire team.
"It has made us a better team," Hormann said. "It forced guys to step up and take on new responsibilities."
With the encouragement and support from their teammates on the bench, Hormann is confident that the remaining freshmen will be able to win their final game of the season against Dripping Springs tonight.
"If we execute our offensive and defensive schemes in a precise fashion we should win the game," Hormann said.