Heavy Hitters
Freshmen Discuss Time on Varsity Volleyball Team
All eyes are on the players as they walk behind the white line and bounce the ball against the cold, hard floor. They've achieved what few others in their grade have: freshman on the varsity team, the highest-level team for a high school athlete to reach.
Although the varsity season has ended, with Canyon High School knocking the team out in the playoffs, outside hitter Joy Udoye and right hitter Mya Cheatum, said they plan to use the experience they've gained for next year's games. According to Udoye, their first hurdle, the tryouts, provided a challenge that they had to practice hard for. In volleyball tryouts, there are two days of non-stop action, and that includes the midnight sprint test to kick off their tryout process. According to Udoye, who also plays all six rotations each game, she made sure to maintain a positive attitude throughout the whole process. 
"My goal when I went through tryouts was to show the coaches what I have to offer to the team," Udoye said. "The process of tryouts was very long and hard. I was constantly on the court working on my skills and off the court working through workouts. The midnight sprint test is definitely a tough thing to get through mentally, but you have your teammates around you cheering for you, and it helped with my confidence and pushed me to a different level."
The midnight sprint test is an evaluation of the athlete's endurance and ability to pace themselves through the use of running in various increments over a very short period of time.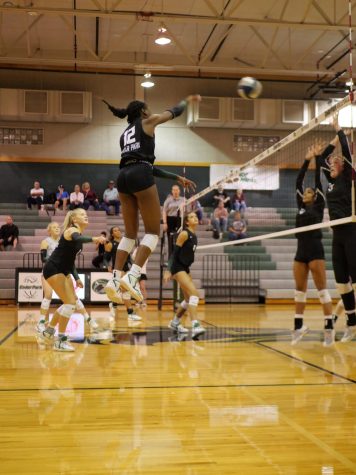 "For the sprint test, I was super nervous since it's midnight and I had to adjust to staying up that late," Cheatum said. "All the adrenaline I had was kicking in more and more as time got closer, which means I had to keep a steady pace, as well as trying not to lose all the energy after the first run, but maintaining the same amount of speed each time. The whole time I loved having all the girls cheering each other on because we're all each other's biggest cheerleaders, so it's super fun running all together. I remember after we finished we were all smiling, cheering and hugging each other because it was like we just killed that!"
Despite the age gap between the seniors and freshmen, Cheatum said the age gap creates a fun group dynamic. 
"I think connecting with my teammates with the age difference is super positive," Cheatum said. "For example our senior class is literally the best. I think their leadership really motivates all of us to work hard for what we want. I also think because we do have different ages we learn a lot from each other on the court and off. The dynamics between all of us definitely clicks, especially when it's game time."
Udoye said her time on varsity this season was positive, and emphasizes the importance of having friends on the team and how that affected the overall experience.
"Ever since tryouts my time on varsity has been extremely fun," Udoye said. "Throughout my volleyball career I have always been surrounded with teammates that are older than me, so it wasn't hard to connect with my teammates even with the age gap. My teammates are also very welcoming and supportive people so that made it easier to feel comfortable. It's amazing to get to spend this time with such great people while playing the sport that I love."
The team ended with a record of 11-3 in district, putting them in third place. 
"My overall mindset for next year is to keep growing in my volleyball career because I still have so much to learn," Udoye said. "Also, [to] keep working hard with my teammates."