JV volleyball emerges victorious
Cedar Park Volleyball season is long gone, but the memories made are all but forgotten. The Junior Varsity volleyball team, comprised of sophomores and juniors, ended the season 22-2 and were named District Champs. One of the highlight games in the team's season was when the Lady T-Wolves defeated Georgetown in a preseason tournament.
 "It was such an intense game," sophomore setter Kirstyn Conwell said. "We were neck and neck with them.  I remember having to serve when the score was 23-24; it was crazy."
Sophomore outside hitter Samantha Corey was also under pressure to succeed.
"I had old friends that played for Georgetown," Corey said. "It was nice being able to beat them with my team."
Corey led the team in kills. Some of the other season's leaders include Mackenzie Dunnehoo in assists, Dana Teets in digs, Lexi Breed in blocks and Evyn Robertson in aces.
The team not only worked well together on the court but off the court as well.
"Our team has had amazing chemistry, ever since the seventh grade," Conwell said. "We all just really understand each other and we bond a lot."
Sophomore middle blocker Kaylin Balderrama agreed.
"We all became sisters and best friends," Balderrama said. "Everyone was really accepting, we didn't really have any team drama."
Another key component to the team's success was the new JV coach, Sydney Teuton.
"She was an amazing coach," Balderrama said. "She was the reason I had the confidence to keep playing when I was feeling down."
For many volleyball girls, club season has begun, but high school season is greatly missed.
"I miss being able to play volleyball with my favorite people," Conwell said. "Now we're all into our club seasons and it's so different not having them by my side on the court."
Next year, the team will be a combination of new and returning members.
"I miss playing together, but I look forward to next season because we will have new teammates," Balderrama said.
About the Writer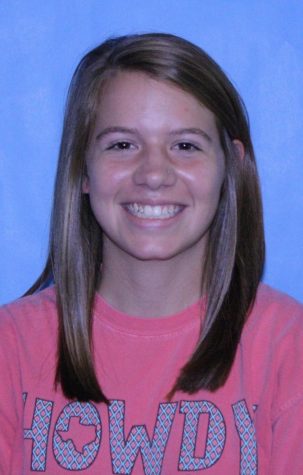 Paige Parks, Writer
Paige "Swaggie" Parks is a junior and second year staffer for The Wolfpack. Born and raised in Cedar Park, she loves the area and its proximity to Austin. Paige is a member of the Fellowship of Christian Athletes and plays varsity softball for CPHS. When she is not playing softball, she drowns herself in homework. She enjoys spending time with her dog, Duncan, and buying him cute sweaters that he refuses to wear. Her favorite teacher is none other than Mrs. Hert, whom she admires. Paige is looking forward to another great year for The Wolfpack.