Order on the Court
Varsity Volleyball Team Ends Season at Regional Semifinals, Players Describe Achievements
The varsity volleyball team's winning streak came to an end when they lost in four sets to Manvel at the Regional Tournament in Houston on Nov. 15.
After a 10-2 district season, the team advanced through Bidistrict and Area, winning in three against Hutto and Grand Oaks. Continuing on, they beat College Station High School in four to advance to the Regional Semifinals.
"My favorite part of the season was definitely beating college station, [making] us regional semi-finalist champs," senior Olivia Meyers said. "It was such a competitive game and coming out on top was a feeling like no other, especially because it punched our ticket into the regional tournament, which is something Cedar Park volleyball hasn't been to since 2016. I was so beyond proud of all the girls because of how much we believed in each other. You could feel all the emotions on the court as we played and as soon as we stepped on for that first serve I knew in my heart we were going to win."
Towards the beginning of the season, the team wasn't doing as well as they had hoped. The tournaments were upsetting, according to junior Haven Pannell, but the team eventually worked through it to get where they are today.
"I know that our captains would lead us through the tough times," Pannell said. "I just put trust in my team and myself. We treat each other like family [and] pushed through by playing for each other no matter what."
As they continued through the season, the team had to figure out a rhythm and learn to trust each other. They continued to put in the long hours practicing at the gym, doing exercises like jumping rope, running up and down the basketball court, and specific drills for skills, such as blue lip, a hitting drill where a player must get six kills or hits and three blocks, and the defender has to get six digs or passes and three kills.
"Practice was somewhere where focus was key, where we got the job done and prepared for our games, but we could [also] show our side of goofiness and have a little fun," sophomore Kymorah Carter said. "We often did serve receive [drills] and our favorite drill was 631, where you [have] to get eight to ten perfect passes in front of the ten foot line, [and] we accomplished 100 rounds of it this season, which was our goal."
During a game, each girl has something she needs to be focusing on. Each position has its own responsibility, starting with the setter. The libero or defensive specialist passes to the setter, who starts the play. Then, the outside hitter, middle blocker, or right side hitter will continue the play.
"As a setter, there's a million things going through my head during the middle of a match," Meyers said. "I'm constantly thinking about what plays to run, what strategies to use, and how to make my team succeed in the best way possible. The way I calm the storm is by simplifying everything down and only thinking about one point at a time."
The team's season concluded with them playing their most important game yet against Manvel. Even though they lost and didn't continue through Regionals, the coaches and teammates are still proud of one another.
"We progressed so [much] from how we started and how we finished, we were a totally different team," volleyball coach Lori McLaughlin said. "These girls genuinely bought in to everything that my coaching staff and I were bringing to the table [and] to this program. I commend them for that because if they wouldn't have done that, then we for sure would not have had the success we did. On top of that, these girls play for each other, which is very strong and can get you very far into your postseason. Us being able to continue to better our game and execute our game plan is what contributed to our success. We were very grateful and excited to be able to continue, but unfortunately it just didn't happen that night [against Manvel]. But, it was a great season."
About the Contributor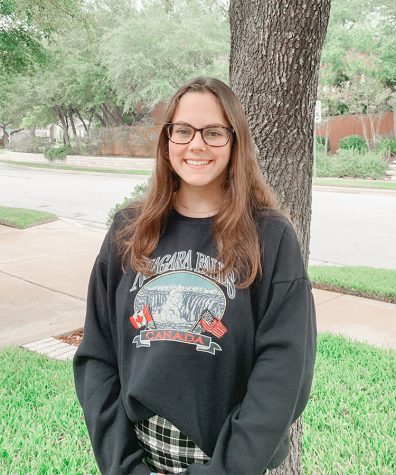 Ally JohnPress, Reporter
Ally JohnPress is a junior and second-year reporter. She is secretary for the National English Honor Society and enjoys writing her own fiction stories in her free time. She also trains Krav Maga, self-defense, out of school. Some of her favorite things include: Mint chocolate chip ice cream, walking her dog, Haylie, threatening to fire staff members (#firingsquad), watermelon Sour Patch Kids, playing Minecraft, jetskiing, hiding things in Hert's stocking and bracelet-making. She enjoys writing about conspiracy theories, but also features about ongoing school events. She wants to go to the University of Texas at Austin and study psychology or adventure to the West coast and discover a hidden love for something.