Practice How You Play
Fall League Showcases Cedar Park Girls Basketball Talent For Upcoming Season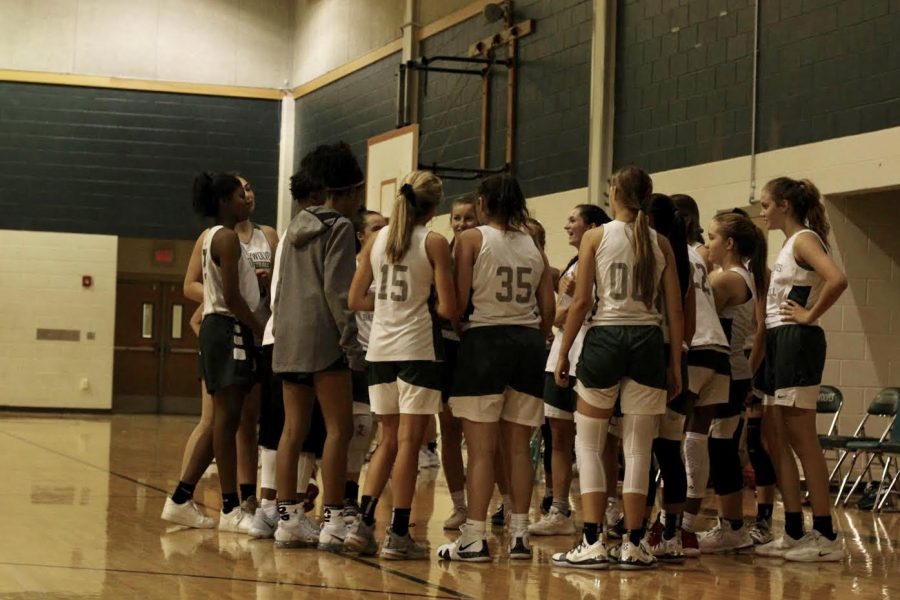 The team that made Cedar Park history is back and better than ever. With eight returning players, the girls basketball program is projected to continue its win streak that swept the district for the last two seasons. For the team, preseason is in full swing, beating Liberty Hill on September 5th, by a "substantial margin," in the words of head coach Donny Ott. The success in Fall League so far is the tip of the iceberg for the varsity team and the players' drive to remain the best team in the district propels their desire for the state title.  
The varsity team's preseason Fall League allows the team to view opponents in the area and improve abilities before the season officially begins by playing scrimmages every Wednesday night against teams from all around the Austin area. In the past, the tradition of Fall League has consisted of the older, returning players taking the coaching position for the JV and Freshman teams. This year, Takara Holst and Nicole Leff, two significant returning seniors who have been playing under Ott for their third year now, were allowed the opportunity to coach the first few games due to minor injuries that were still healing.
"It's been very eye-opening getting to watch how much talent we have this year for all three teams," Holst said. "Now that we're seniors, everyone is looking up to us and it's time to show what we have to offer on and off the court."
Success is so important to this team that players like Holst and Leff regularly stay after school in order to shoot around with the younger players, polish their knowledge of the plays and give support to them in any area. Holst said she and Leff, in particular, have roles on the team "to lead and coach the younger players" as captains, allowing their knowledge of the game to encourage and teach the future varsity teams. 
"
We, as a team, need to create our own expectations for greatness instead of letting other people set them for us."
— Head Coach Donny Ott
"I'm excited to be bringing back the experienced girls on the team," Ott said. "And to cultivate a team of girls who already get along so well."
Coach Ott has been on staff with Cedar Park for three years now, and his team's legacy puts high expectations on the program for this season. With the program winning district titles for the last two years on both the varsity and JV teams, this year, according to Ott, is all about reaching expectations. 
"We, as a team, need to create our own expectations for greatness instead of letting other people set them for us," said Ott. 
Ott has decided to bring up freshmen Ana Minor, Moly Ly, Aliyah Carter, and Gisella (G) Maul into the fourth period varsity practice because of their outstanding skills that distinguished them from the rest of their young teammates. By bringing up a few girls, Ott is able to use the returning players as examples for their game and skill on the team. 
On Thursday Sept 12, Cedar Park played Lake Travis and won 59-21, proving that this team is out for another district title. The varsity team plans on attending a tournament in Bowie from November 14-16, and then to the McDonald's Invitational Tournament in hopes of proving their spot in Central Texas, as well as developing the skills and bonds necessary to be as successful as their previous years.
About the Contributor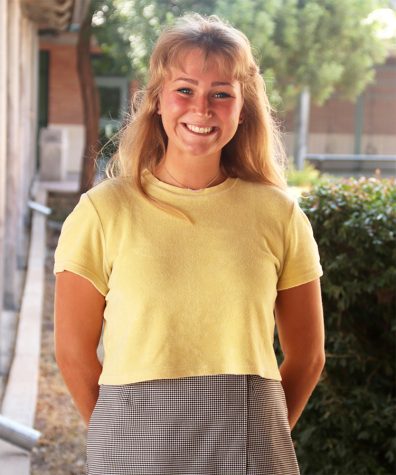 Addie Dawson, Reporter
Addie Dawson is a senior and a first-year reporter. In addition to being a Wolfpack staff member, Addie is a student leader at the Friday night football games and loves to be a part of any and all school events. She enjoys writing about the student body and staff at CPHS as well as opinionated pieces about our culture and social norms. Addie plans to attend Texas State University in San Marcos to study English with an emphasis in Creative Writing. Addie proudly owns a bearded dragon named Clementine, loves the color yellow, and enjoys being the loudest one in the room.