Swimming to Glory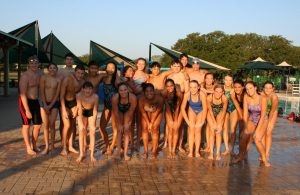 The dedication of the swim team cannot be underestimated. Squeezing in their practices, school, homework and meets, as well as having to get up super early to get to their three hour practice is no easy feat.
Up by 6 a.m. or earlier every weekday morning, the swimmers have "dry land" exercises, which include crunches, butterfly kicks and other hard-core activities that strengthen their abs and legs for the water. Then, they get in the pool  for warm-ups and swim 12 75-meter freestyle laps.
"For the first part of the season we're working on long-distance and endurance," Head Coach John Baltzell said. "Then we'll move on to working on their speed and fundamentals in the different strokes."
Their first meet is Oct. 4 at Roy and Jean Potts Swim Center against Belton Dual followed by the Round Rock Invitational on Oct. 11. The team is working towards the district 17 4A Championships in January and the Regional 5 4A championships in February.
"I'm competing in the 100-meter breast stroke and the 200-meter IM, where you do all of the strokes," freshman Victor Wu said. "I think I'll do well, and I hope to make it to region."
The team consists of 11 freshmen, eight sophomores, four juniors and five seniors.  
"We have a couple swimmers who are among the top in the state," Baltzell said. "They will definitely be able to go to the state championship in late February."
For more information on the swim team, such as tournament dates, records and information about the coaches, go to the team's website at www.freeteams.net/cphsswimming