The Race is On
Returning Track Athletes Discuss New Coach, Upcoming Season Projections
Cedar Park track season is finally here. With the season rapidly approaching, athletes at Cedar Park began practicing as early as Jan. 20 for their events in running and field. The new year brings with it some new changes for the team, for new head coach Chance Edwards has brought with him a new mentality and goal for the team's success.
"This year we do more motivational stuff, there's less competition between the team and more of a team mentality," junior relay sprinter Elena Venincasa said.
Many of the returning athletes are hopeful for the new season under new instruction, and with their next meet this Saturday, they fell prepared to swipe the competition.
"This year we have a new guys distance coach who is also the head girls track coach who is a really good coach and has kept this winning culture this past cross season so we are looking forward to this track season," senior mile and two mile race runner Tiras Parker-pie said.
The team practices daily to improve their skills overall as a team in running events and field events.
"I feel like the guys track team is pretty strong all around the distance team is extremely strong with us having some of the top runners in the state and the sprints and relays are coming together everyday," Parker-pie said. "With such positive attitudes on both teams, the program endures a long season which leads up to the state meet."
Both the girls team and the boys team have high projections for their season this year compared to previous years, thanks to their motivation to excel and bring the team together.
"The talent of this year's team is a lot stronger and faster than the previous year's team because we have a large number of returning athletes that bring a lot of experience to the team," junior pole-vaulter Megan McDaniel said. "We have a well-balanced group in all events from sprinters to distance runners to field events. I believe that the track team will go very far this year. Our team has the capability to advance with as many girls as possible on the road to the state meet."
About the Contributor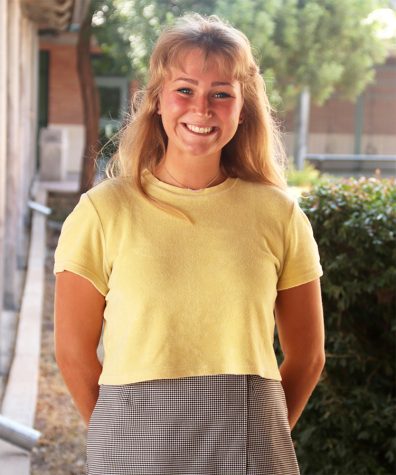 Addie Dawson, Reporter
Addie Dawson is a senior and a first-year reporter. In addition to being a Wolfpack staff member, Addie is a student leader at the Friday night football games and loves to be a part of any and all school events. She enjoys writing about the student body and staff at CPHS as well as opinionated pieces about our culture and social norms. Addie plans to attend Texas State University in San Marcos to study English with an emphasis in Creative Writing. Addie proudly owns a bearded dragon named Clementine, loves the color yellow, and enjoys being the loudest one in the room.