Varsity softball headed to playoffs
The Varsity Lady T-Wolves are headed to the playoffs after beating Rouse and Marble Falls for the second time. Their 9-8 victory against Rouse on Mar. 28 has knocked Rouse out of the playoffs. On Apr. 9 they won a pivotal game against Marble Falls 1-0, putting them in third place, and sent Marble Falls to fourth place going into the playoffs. 
According to senior left fielder Chase Kavcak, the most recent games against Rouse and Marble Falls were the most important of the season.
"We needed to win those games to secure our spot in the playoffs," Kavcak said. "They were also some of the most exciting games of the season."
The predominately senior team, with a district record of 6-4, is striving to win the playoffs for their last season, according to senior short stop Abigail Shade.
"It makes me want to push myself to work harder knowing it could be my last chance to step on the field as a Lady Timberwolf," Schade said.
Schade's teammate, senior second basemen Claudia Golden is also especially excited for playoffs.
"Being a senior doesn't make me play or perform better for playoffs," Golden said. "But it definitely makes me care a little bit more because this is our last chance to prove what we can do."
The girls aren't ready to part ways yet and hope to play as many games together as possible, according to Schade, who will be playing softball for Temple College.
"I will miss being surrounded by such a great group of girls," Schade said. "I've never been so close to any team, we are all sisters and work really well together."
According to Kavcak, her softball memories will follow her when she graduates.
"We have an extremely special bond this year," Kavcak said. "And that's something I'll cherish for years to come."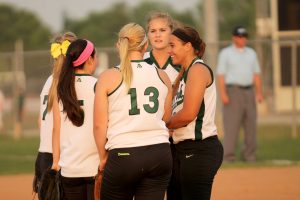 Their first playoff game will be Thur. April 25 at home versus the LBJ Jaguars at 7:00 PM.