Senior Spotlight: Cristina O'Hanlon
With the year packed full of three college applications, nine AP exams, scholarships and plans for the future, senior year can get stressful. Being in the top of her class and involved in countless organizations, senior Cristina O'Hanlon has had to manage her large amounts of stress for the past four years.
Being third in class brings an expectation from others to maintain the position. Adding on being Spanish Honor Society and Mu Alpha Theta President, National Honor Society Parliamentarian,  as well as a member in the English, Science and Rho Kappa honor societies, her schedule fills quickly. Over her time in high school, O'Hanlon has changed her mindset to better manage her workload.
"
I feel really grateful to go to a school that has so many AP classes and vocational programs and teachers who care"
— Cristina O'Hanlon
"I think over the past four years I've definitely learned how to handle stress better and keep perspective, but I've also never had as much on my plate as I do now, so I can still get kind of caught up in it some days," O'Hanlon said.
O'Hanlon has found new ways of managing her stress this year.
"I've started prioritizing sleep which I think has helped me destress because it's just easier to deal with whatever you're dealing with when you're at least semi well rested and you're in a decent frame of mind," O'Hanlon said.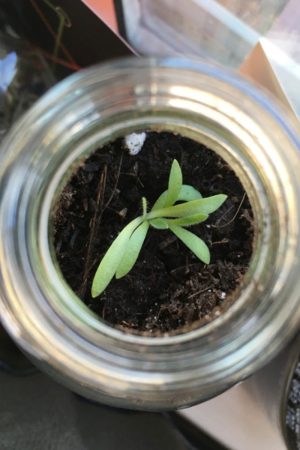 In order to create a more stress free environment, O'Hanlon has begun growing plants.

"I started growing plants this year because I've heard that having plants in your surroundings is supposed to make you happier and I thought I'd try it out," O'Hanlon said. "Taking care of other things is always kind of a good reminder to take care of yourself, which is something that can really help you remember how important it is to manage your stress when you're busy and caught up in whatever it is you're stressed about."
O'Hanlon's motivation to be academically involved is not brought on by outside pressures.
"I'd say I'm not really pressured to be academically successful in school so much as motivated by the awareness that the opportunities available to us at Cedar Park don't exist everywhere," O'Hanlon said. "I feel really grateful to go to a school that has so many AP classes and vocational programs and teachers who care and I just want to do my best to take these privileges and gain enough value from them to be able to turn around in the future and give back."
She will be Attending the University of Texas at Austin for Chemical Engineering Honors this fall.