13 Students Win Scholastic Art Awards
Art Students Recognized in Scholastic Art and Writing Awards
Hang on for a minute...we're trying to find some more stories you might like.
This year, the Austin Texas Art Region received nearly 1700 individual submissions for the Scholastic Art and Writing Awards that were then judged by a panel of creative professionals on Saturday, Jan. 12. The following students received recognition in the form of a gold key, a silver key or an honorable mention.
Megan Bonsall (11)
Title: Serene
Category: Photography
Award: Silver Key
"My inspiration for the piece was my favorite photographer, Ansel Adams, who is a nature photographer," Bonsall said. "I really wanted to incorporate his calming nature elements into portraiture. I feel like the setting and coloring of the photo helped me create a strong serene feeling."
Sydney Deen (11)
Title: Shade
Category: Photography
Award: Honorable Mention
"Lately, I've been really fascinated with the idea of intimacy, and how that translates both physically and emotionally, and that was sort of the direction I went with my photo," Deen said. "This piece is fairly significant in my development as a photographer. I've never really felt confident in my learning curve or my ability in photography, but this photo really surprised me with how it worked out."
Faith Elliott (11)
Titles: The Hands We Hold, Faces of Rwanda
Category: Photography
Awards: Honorable Mention, Silver Key
"What's important to me about my piece is how it captures a small amount of the beauty and joy in Rwanda and brings it back to the US," Elliott said. "I feel super lucky to have had the opportunity to photograph people of Rwanda. It's such an amazing country [and] it's impossible to visit and not fall in love with the country and people."
Diana Gutierrez (12)
Title: Insecure Identity
Category: Photography
Award: Gold Key
"I guess the whole 'brown paper bag to hide your insecurities' trope is what initially inspired me to create my piece," Gutierrez said. "I really like my photo because it's engaging in the sense that it's trying to tell you something. The room itself is a mess, but the lovely dappling sunlight coming from the window really reveals the room's appeal. This piece is important to me because it shows the audience who I am throughout the little details."
Hyunjun Jeon (12)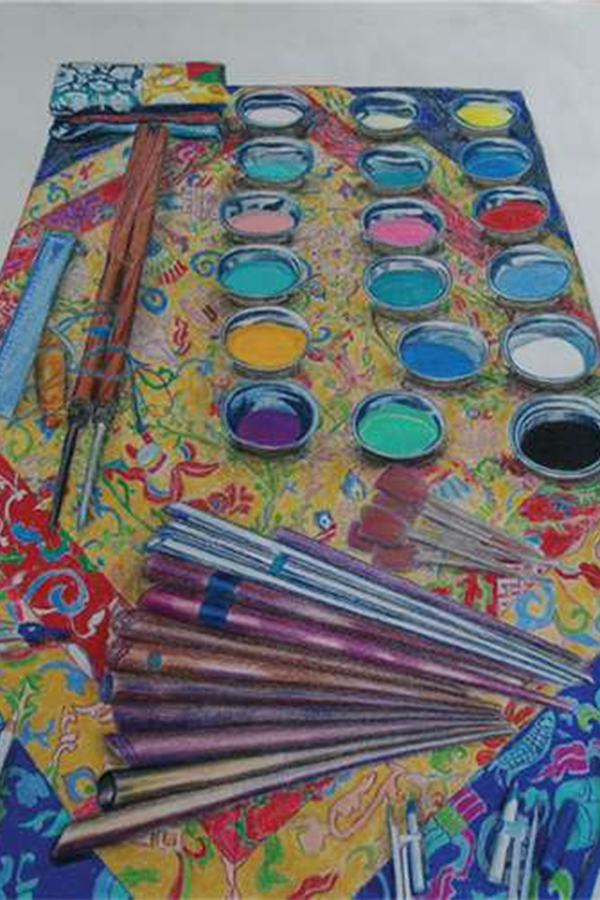 Title: Tibetan Dyes
Category: Drawing and Illustration
Award: Silver Key
"I didn't have an inspiration, to be honest," Jeon said. "It was an exploration of color with more important details. When you look at it it's really intricate how the colors blend together and create like different shapes.
Natalia Peck (11)
Title: Mani.
Category: Photography
Award: Honorable Mention
"I don't really have an inspiration, but I knew that I wanted to do something with depth," Peck said. "The importance of the piece to me is that it's a door from a childhood place that's special to me.
Ryan Sawicki (11)
Title: Play
Category: Photography
Award: Honorable Mention
"I was inspired by the feeling of nostalgia, because almost everyone can remember playing in a playground as a child so I wanted to create a picture that invoked that feeling," Sawicki said. "It was important that I made something everyone could understand and relate to, but also something that was visually interesting and different."
Amelia Tapia (11)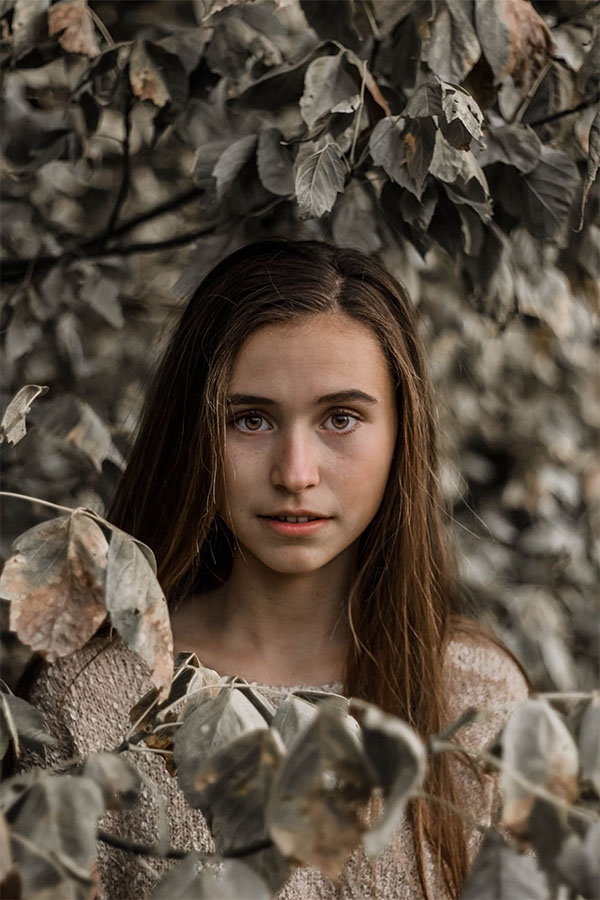 Title: Garden of Eden
Category: Photography
Award: Honorable Mention
"The one thing that I love about photography is that you can truly have total control over how your picture comes out," Tapia said. "It was important to me that I truly portrayed the essence of the person photographed. On the other hand, I wanted my submission to be something I was proud of and, in the end, the photo definitely was."
Dylan Glauser (11)
Title: Cells and Veins
Category: Ceramics and Glass
Award: Honorable Mention
"My biggest inspiration for that piece would be this artist called Clint Ferguson," Glauser said. "He does a lot of really geometric pieces and he is also inspired a lot by biology and cells. The subtractive work I did on the piece I actually did with a needle."
Kelsey Jones (12)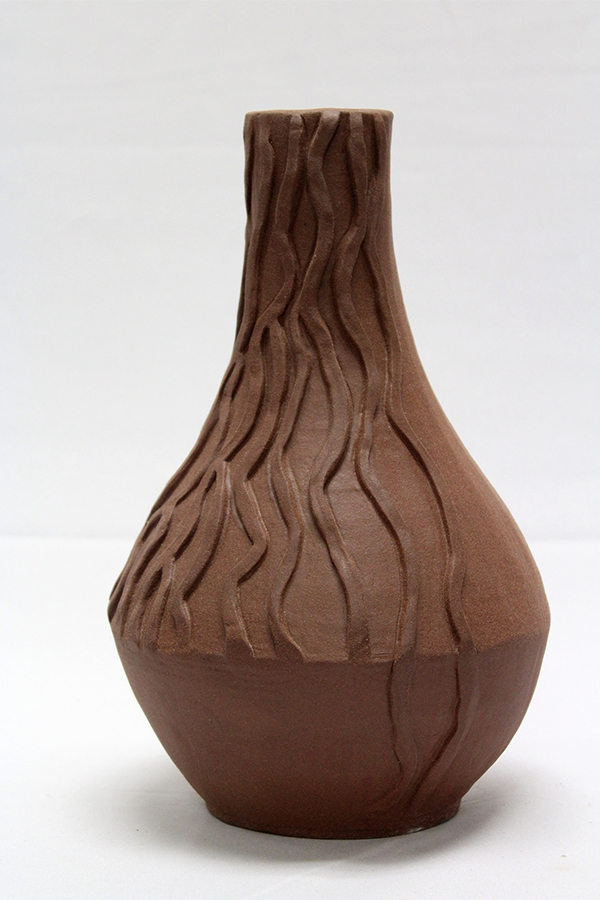 Title: Taking Root
Category: Ceramics and Glass
Award: Gold Key
"This was my first time ever working with the brown clay so it was a really exciting thing for me," Jones said. "I didn't really have an exact idea for this piece when I first started it. I knew the shape that I wanted the vase to be but I had no further ideas after that. Once it was built, I realized that a more natural design would look better with the brown clay."
Tomas Spratt (12)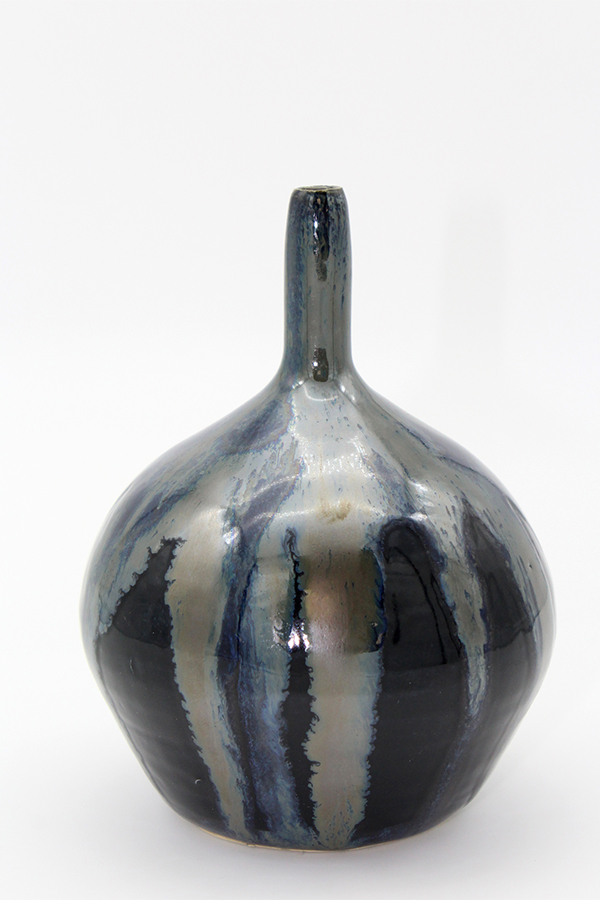 Title: Narrow Mouth Vase
Category: Ceramics and Glass
Award: Honorable Mention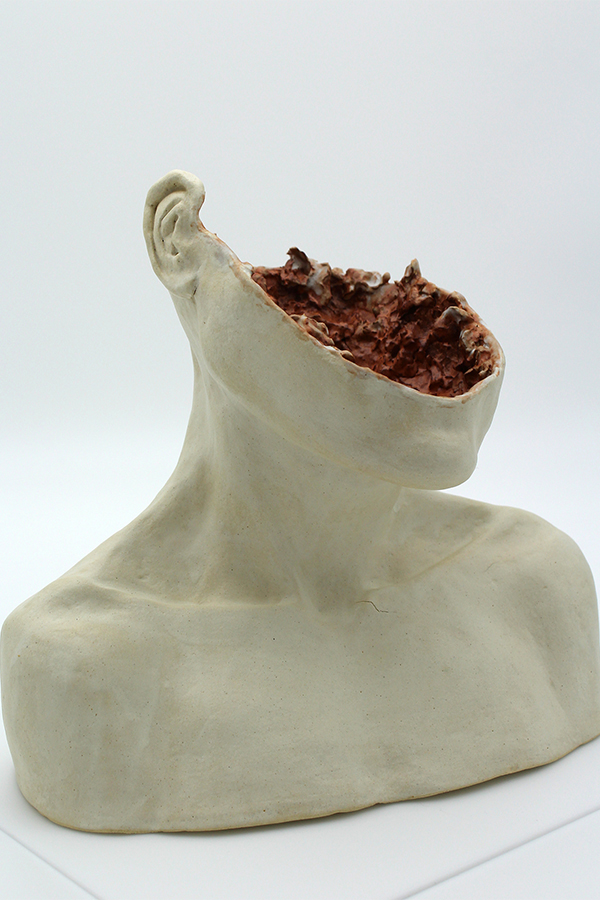 Lindsey Elford (11)
Category: Ceramics and Glass
Titles: Jane Doe, Green Tea Set
Awards: Gold Key, Honorable Mention
"I love working with clay because I'm able to start a piece without much of a plan and build off of that with whatever I'm feeling," Elford said. "I didn't sketch what I wanted the end pieces to look like because I wanted to go with whatever came to my mind at the moment."
Abby Teicher (12)
Titles: Southern King, Multiplied
Category: Ceramics and Glass
Awards: Honorable Mention, Gold Key
"For my honorable mention piece, I was inspired by my trip to Colorado and Santa Fe so I decided to incorporate some of the culture and other things I saw and experienced while I was there," Teicher said. "For my gold key piece, I had nothing to really go off of but I knew I didn't want to stick to the normal shaped everyone else is doing. I decided to make my own blobs and that's how the bowl was formed."
Gold key pieces are currently being reviewed at a national level in New York City by a panel of creative evaluators. National medalists selected by these panels will be announced Feb. 1.
About the Writer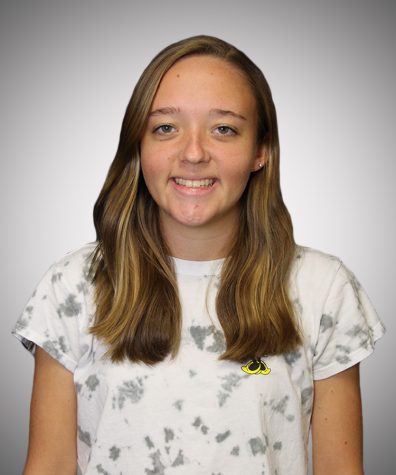 Kaley Johnson, Reporter
Kaley is a junior this year and this is her first year on the Wolfpack newspaper staff. She has been writing short stories for years and can't wait to write for her fellow students. She enjoys reading, writing, and music and is on the CPHS tennis team. After newspaper, and tennis, she is also a part of the mentoring program, PALS. Kaley takes joy in writing about her interests along with information about how things effect the students of the school. Her favorite music includes a rare combination of classic rock and musical theater. Her outside of school activities include working, eating an unhealthy amount of fast food, and watching Netflix with her dog.