2000 Cranes, 2000 Prayers
Ms. Sue Gives Paper Cranes to Coach Danielson to Heal her Cancer
It was a normal Thursday practice, Celebrities were practicing their routines. This was until Ms. Sue, who works on the cafeteria staff, came into the dance gym with 2,000 handmade paper cranes for Coach Stacy Danielson.
"I've known her for many years and she always smiles," Stifflemire said. "When I found out she had cancer, I was so sad."
Danielson was diagnosed with colon cancer in June of 2016. Stifflemire didn't hesitate to take action. She said that she suddenly felt the need to make these cranes for her. It took two or three months to complete, but Stifflemire said that with things like these, time is not an object to her.
"Time doesn't matter, I came home and started making them," Stifflemire said. "I could feel in my heart, it told me to do it."
These weren't just any cranes either, Stifflemire made them from calendars, receipts, magazines and candy wrappers. She then said a prayer on every single one, asking God to help heal her best friend.
"2,000 times I did it for her," Stifflemire said. "I prayed saying 'please God, help heal her.'"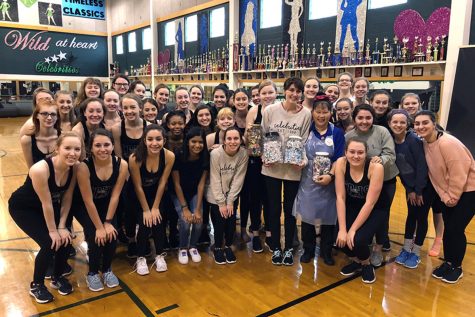 Danielson has a team by her side helping her through the fight, but seeing people do things for her out of the kindness of their heart brings her to tears.
"I don't even know how to explain it," Danielson said. "She's been a wonderful lady from the first day I met her. I don't see her every day, but to know that she still thinks about me when I don't see her is really sweet."
In the midst of responsibilities of her day to day life, Danielson wants the world to know that there is more to school than grades and classes.
"Life is all about relationships, hopefully that's something I share with my students," Danielson said.
Stifflemire said her husband questioned her as she made these 2,000 cranes throughout the past few months, but doing this act of kindness for Danielson is just who she is.
"I told him that she was my favorite person and teacher, but it doesn't matter who it is," Stifflemire said. "This is me. I would do this for anyone, why not do it?"
Evan Vines