Death down the hall
Matthias' Classes Begin Crime Investigation on Staged Dead Body
Blood spattered across the white tile and pills laying just feet away from a syringe. Crime scene tape stretched wall to wall.
On Monday, Aug. 20, shocked faces lined the halls as students spotted Anna Garcia's body for the first time in the upstairs alcove of the A-building. However, this shock was soon wiped away when they realized that she was only plastic.
Passerby junior, Madison Markunas, said she was on the way to her second period when she initially saw the body.
"At first I was confused until I saw an AP standing near it," Markunas said. "I was thinking, why is there a dead person on the floor and no one is doing anything about it?"
But no need to worry- the body was placed there in the name of science by Principles of Biomedical Science (PBS) teacher, Nancy Matthias. Every year, Matthias hosts this project which is called "The Death of Anna Garcia." The case is developed for teachers like Matthias by the non-profit, Project Lead the Way.
Throughout the entire year, students use the crime scene evidence like fingerprints, blood, pills and a syringe to solve the case, but they will also be given Anna's medical history, a partial autopsy report and people of interest to the case.
"It could be anything from her medical problems to a slip and fall," Matthias said. "Anywhere that their imaginations take them."
On the first day at the scene, PBS classes took photographs of what they found, and on their second day, students came prepared with paper and clipboards to sketch it out by hand.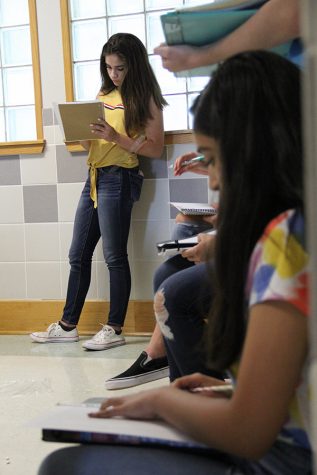 One of the students sketching on Tuesday, freshman Sam Hoskere, said that he prefers this hands-on experience over the common worksheet.
"You can see what is going on instead of just looking at a picture," Hoskere said. "Go up there instead of sitting at a desk."
Hoskere said that between the many possible causes of death, he does not believe that suicide was the case for Anna. He said that it is unlikely that she used pills and a syringe to kill herself, and there are other pieces of evidence on the scene that could point to murder. 
"If she were to [commit] suicide I don't think all of those things would be necessary," Hoskere said. "I think the things were planted there, because the pills are scattered in one area, there is a footprint, there is blood on a cup and there is blood on the table where it shouldn't have been."
If solving Anna's death was not enough exposure to what investigators do, students will also be researching various careers that are relevant to the case. Each career will be researched in the order which they apply in an investigation, meaning that a 911 operator would be first, policemen next and then a coroner. 
"
We learn through our curiosity, we learn through doing"
— Nancy Matthias
This additional aspect of the project can bring a new perspective to the students' studies.
"It is taking biology into real life," Matthias said. "Because you see it on TV, but you don't know the steps behind it."
In addition to the hands-on nature of the case, Matthias said that giving her students the liberty to experiment on anything they are curious about is what makes this such a valuable project.
"We learn through our curiosity, we learn through doing," Matthias said. "By letting the students come up with their own ideas, their own theories, they learn it better because it is hands-on."