Dog Show Days
Student Trains, Presents German Shepherds at Dog Shows
Working as a teenager can be a challenge, especially when finding something that isn't tedious or boring. While some students may go to their fast food or retail jobs after school, freshman Lacie Perry does things a little differently by training and competing in dog shows with German Shepherds.
"Everyday I go in to feed them and train them, which consists of making sure they're running in the right form," Perry said. "Then we stack them, which is a fancy way of making them stand. We do all of this to get them ready for dog shows that we compete in."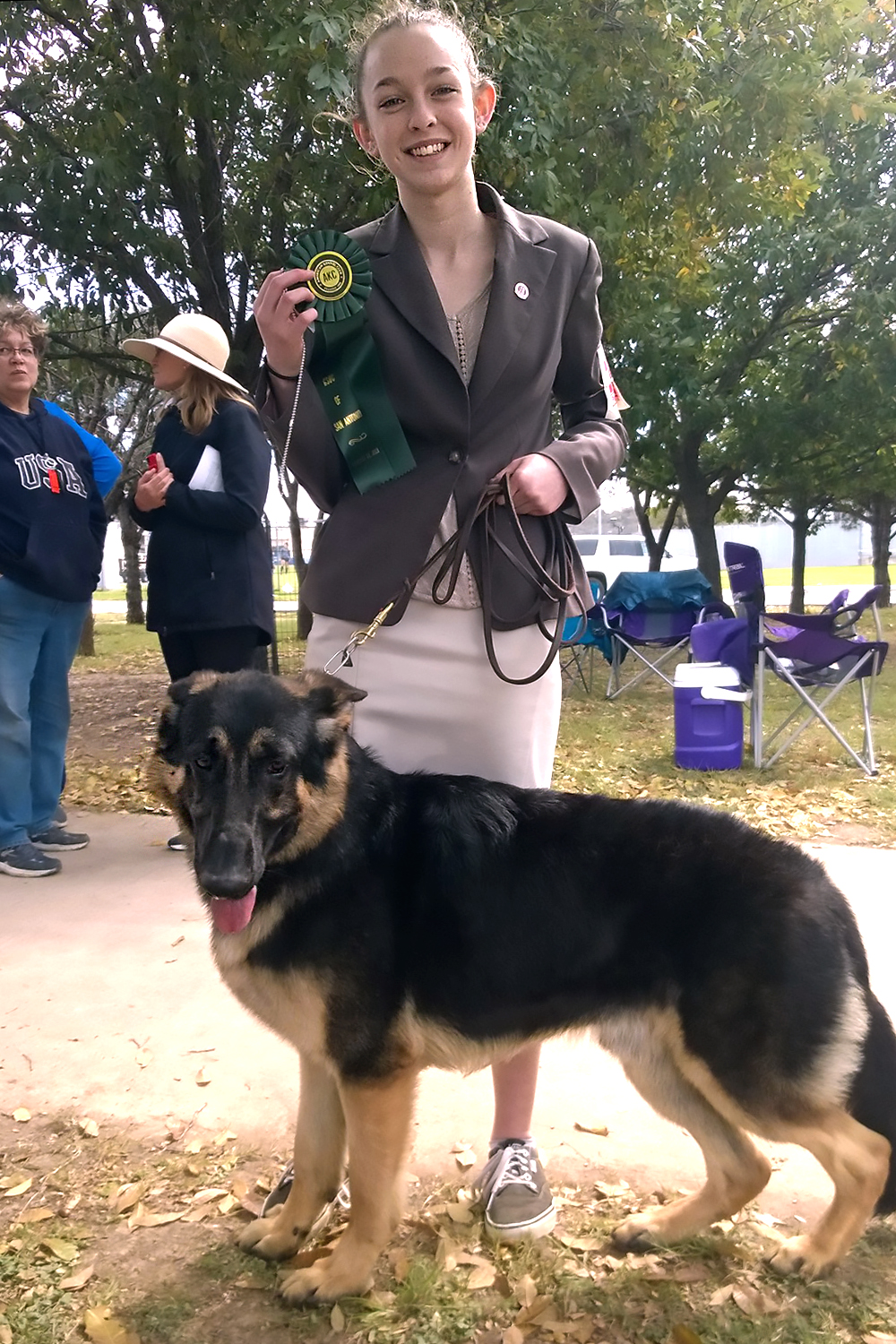 Perry began her job last spring after being hired by the same business that her brother used to work for. The woman who owns it knows her family, so the job got passed down. Perry said she is surprised by how much she loves it.
"I really enjoy it and I never saw myself in this position at all," Perry said. "My favorite part has to be watching the dogs get better at what they're doing because it means I'm getting better at teaching them. We train six or seven dogs every day and two at a time so they can get used to working with other dogs."
In the beginning, Perry knew very little about what she was doing, but now that a year has passed, she has started competing in big shows and showing world champion dogs. She said that by competing in what she thoroughly enjoys, the uncertainty can be overwhelming at times.
"It's so nerve-wracking because you're in a big ring with a bunch of people, and everyone has so much more experience than me," Perry said. "You also have no idea if your dog is going to act up and you have no idea what questions the judge will ask you or what tricks you have to do, so you have to be prepared for anything."
Perry's last show was this past Saturday, at which she received 20 medals. She also had a show in October, in which she was competing against three other dogs. She placed first in her class both rounds and third in best of breeds which is the overall show with the winners from each class. The next show she is competing in will be held in April.
"There's a lot of commotion because there are people outside the ring calling their dogs to make them perk up," Perry said. "There are also squeaky toys going off and just a bunch of noises, so it's really hard to concentrate on the show."
Perry said that she feels that it is important for kids her age to see that it is okay to do something unique and uncommon.
"It's really important because it's not every day you hear about a 15-year-old showing dogs," Perry said. "I think once more people see what I'm doing, they can understand that it's okay to do something different, as long as you're enjoying it and having fun."