Don't Pluck My Strings
Multi-Instrumentalist Sophomore Places First at TMEA All-State With Harp, Pursues Euphonium
The auditorium goes silent as the spotlight shines on a stage full of instruments. As the lights dim, the classical music produced by the combination of wind, brass, string and percussion instruments fills the room. A round applause erupts from the audience as a state winning harpist plucks her final note. For sophomore Adalia Stiglich, music and performance have been a part of her life since she was four years old.
This year, Stiglich took home the gold at the Texas Music Educators Association (TMEA) All-State competition. In order to qualify, harpists must first audition for the regional orchestra, which includes musicians from Leander ISD, Lake Travis ISD and Eanes ISD. Then, participants submit a recording to the State where they compete for one of seven spots at TMEA. Out of 150 students who submitted recordings, Stiglich ranked first. 
"I did harp for State this year and I managed to jump up to first, so that's pretty nice," Stiglich said. "It didn't really feel like much because I feel really disconnected from the hurrah of all the harp stuff because I am one of the only harpists in this region; there's two of us. I know the other harpists are in Dallas and Houston, so I don't really know how hard it is to get there, I just hear people talk about it. I know it's something big to celebrate, but I don't know how big it is. It did make me try more, because I think I was scared of in-person versus recording because it's totally different."
When Stiglich was preparing for State, it was during the middle of marching band season. Christopher Yee, the head band director, helped Stiglich record her submission for All-State.
"We were shocked," Denise Stiglich, Adalia's mom, said. "She does euphonium in marching band and was the soloist in the marching band show, so she was in the middle of heavy duty marching season and trying to prepare this with harp. We also had no idea how she was going to do this year because we knew last year, the recording process was different. Also, coming from a school that doesn't have an orchestra program and living in a region where there's not really any harp players, we had no clue how she compared to people in the state, so this was kind of a surprise. None of us had any clue that she could do that."
Last year, Stiglich placed 12th in the state for the Texas Music Educators Association. However, placing was different due to COVID-19 restrictions, and competitors submitted recordings rather than playing in-person. 
"You don't have to qualify for it, but you just have to record your études," Stiglich said. "It was like a downplayed version of what usually happens, but that's what happened last year. For the gallery, you just took a picture of yourself and they put it on their website."
Stiglich plays the pedal harp, which is one of three types of harp. The pedal harp, or concert harp, is the largest harp, and harpists use their feet to shift the notes to play.
"There's not a specific reason why I [play the harp], like yes, I like making music and it makes me feel happy, as they say, but I just like the sensation of plucking the strings," Stiglich said. "I like being able to make something really good out of just your own work effort and nobody else's. It just feels satisfying."
Stiglich's interest in playing the harp began when her mother took her to an orchestra concert in Pasadena, California for Halloween when she was around four years old. According to Stiglich, she had been interested in the big, "weird" instruments.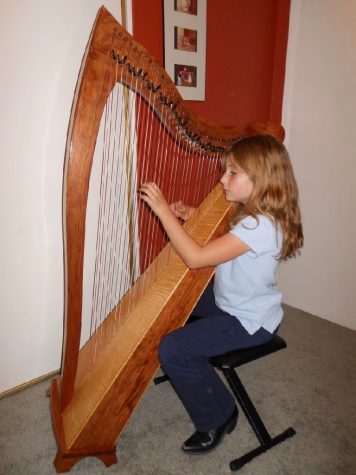 "She had said she wanted to play the harp, and we were like 'no way, you're too young," Denise Stiglich said. "We knew nothing about harps at the time, and it was like 'no this is just a phase,' but she kept asking us. She was around eight and in third grade when she started, and she just kept bugging us and finally we found a teacher in California that was willing to teach her. They had these little teeny tiny harps, and that's what we got for her when she started playing it. She just took off."
For harp, Stiglich practices five times a week for around 30 to 45 minutes each day. She said she is trying to keep up with all her instruments, which is a lot to manage.
"I usually practice in the morning, if I can, because I have band and all that other stuff to do," Stiglich said. "When I'm playing, there's not much in my head, which I know there should be, but it's mostly just that I'm jumping around without thought."
When it comes to performing, Stiglich said she prefers to do solos versus orchestra. In middle school, she played with the Austin Youth Orchestra for a few years and has also done various music camps, such as the Midwest Harp Festival, Houston Harp Camp and Teupha Camp. 
"You don't get to play that much harp in an orchestra unless it's really high end, and I think the only time I've actually played through a piece was All-State this year," Stiglich said. "Most of the time we're never in percussion, and we just sit there."
Although Stiglich does not compete much with her harp now, she did compete in the Young Artist Harp Competition in Maryland and made finals in middle school. 
"In order to make finals you had to have your recording of your pieces selected, and making finals was probably my first big success for harp," Stiglich said. "I remember it felt new and exciting because I had never competed on a large scale with harp before."
In addition to playing the harp, Stiglich also plays the euphonium and piano. She has been in band since sixth grade and has played the piano for almost 12 years. 
"I think I'm putting harp aside for the next two years to do something with euphonium," Stiglich said. "I would like to try to make State with euphonium, but that's a lot harder than harp, so we'll see what happens."
Last year, Stiglich placed second at the Janice Kay Hodges piano competition in San Antonio and received a scholarship to attend Interlochen, a prestigious music summer camp. 
"Getting second was satisfying because it validated the work I put into it," Stiglich said. "The scholarship to Interlochen stressed me out a bit, because I knew I would probably be heavily pressured to do it, and I didn't know if I would be behind all the other people at the camp, but I had a bit of happiness for it too. Unfortunately, the camp did not go so well for me, [and] I was pushed to overwork myself a little bit, but I did get a good amount of help for piano."
Outside of school, Stiglich participated in the International Tuba and Euphonium Association (ITEA) competition last summer and placed first in her category, 15 and under. 
"While it was nice to see that I got that placement, it felt not as exciting since it was something where you simply submitted a recording and waited at home for the results," Stiglich said. "But, it was still nice to be able to achieve that placement since I hadn't done ITEA before"
Although Stiglich is interested in pursuing architecture and music therapy in college, she said she is still unsure about her future. 
"I would like to do a little bit of music in college," Stiglich said. "I don't really know what my future will look like, but it will probably entail music in some way. While I would like to try architecture, I've heard many different things from people about how that major takes a lot of effort and time, and that might not be the best route for me. My interest [in music therapy] initially stemmed from hearing that the most financially stable jobs that are music-based are music education and music therapy. After looking a bit more into it, being able to use your musical skills and knowledge to be able to make a person closer to being happier seems like something worth putting an effort into to see if I could do it."
Music has always been a part of Stiglich's life, as her entire family plays an instrument. She also plays at nursing homes with her family ensemble. 
"Our house is never quiet and I love it," Denise Stiglich said. "It's all about music at this point. I think she just has a lot of natural talent, and it's nice to see that she's very humble about it. It's nice to see the humbleness that she has when she's so talented."
According to Stiglich, playing three instruments can get overwhelming, but it is enjoyable.
"It's fun to be able to play the different pieces that each instrument can play," Stiglich said. "One thing it has taught me about life is that you have to be able to rely on what others think of you in order to shape your opinion of who you are. Music has affected me by giving me a different perspective to various situations."