FISHY FEATURE: Dylan Gilkey
Freshman Shares Excitement on Making Varsity Team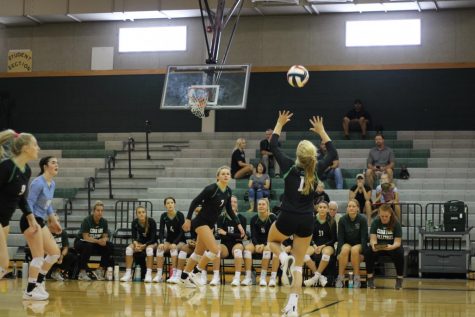 This 2019-2020 school year at Cedar Park is shining brightly, thanks to some fresh faces on campus. The Cedar Park class of 2023 has become a new addition to the timberwolf student body, bringing with them multitudes of talent and contributions. One particular freshman has been busy making history on the volleyball court.
Dylan Gilkey is just one of the many incredible freshmen that have begun their high school legacy. With 11 years of experience under her belt playing recreational sports, Gilkey's athleticism and tenacity can be seen on and off the court. She began her sports career at the age of four, participating in a wide variety of sports like swimming, cheerleading, gymnastics, soccer, basketball, track, beach and court volleyball. There wasn't a sport she had not tried, yet she had an unexplainable passion for the rush of adrenaline on the volleyball court and family ties to the game. Gilkey said she "chose to play volleyball because [her] aunt and mother both played D1 volleyball and because [her] father was a D1 college volleyball coach." With numerous family ties to the game, Gilkey explained why she decided volleyball was the right sport for her. "I grew up watching my dad's team's play, and when I play volleyball, I love the feeling of competition and getting to watch a hitter crush a ball," Gilkey said. Having participated and been apart of many teams, Gilkey's focus became sharp on being the team player who anyone could rely on.
For Gilkey, court volleyball became a passion three years ago after deciding to focus on improving her skills for future opportunities that would arise in high school, while still occasionally participating in recreational sports on the side to keep in shape. Her inspiration to continue soaring high on the court came from her next-door neighbor and Cedar Park alumni Linda Steinhart who tried out for the volleyball team her freshman year and ended up making the cut for the varsity team. "She's a lot like me," Gilkey said, speaking about Steinhart, "meaning she wasn't the tallest setter but she still achieved her goals in playing college." As a second-grader, Gilkey looked up to Steinhart's legacy and made it her goal to make the varsity team. During the transition from middle school to high school, Gilkey made sure her skills were up to par with her older competition by stepping up her game, literally and metaphorically, in order to be prepared for the volleyball tryouts that took place in the late summer of this year. After impressing the coaches with her unmatched skills and team-like leadership, the "one-on-one conversation after tryouts" took place between Gilkey and the coaches, and her dreams had finally come true, and Dylan successfully earned her spot on the Cedar Park girls varsity volleyball team as an incoming freshman. Gilkey said, "I was ecstatic but I knew that this was the beginning of a lot of hard work ahead."
"
I hope that I make an impact on the CPVB program in any way possible and to keep growing and learning new things every day.
— Dylan Gilkey
With the school volleyball season underway, Dylan hopes to bring her all to the team and prove to the coaches that she deserves the spot she was given. The team has a record of 13-17 on the season while defeating Hutto on August 27th, a huge win for the program. Moving forward, Dylan hopes to make a lasting impression on the team, coaches, and future players in the Cedar Park volleyball program. It seems that her young age has not kept her from being successful on the court, for she embraces the role of the freshman on the team with positivity and hope for continued success. When asked about her upcoming challenges, Gilkey replied, "It makes me excited because I know that I can only go up from here and challenge myself to do hard things."
"I think my role on the team is to bring positive energy, play defense, put my hitters in the position for success, and play with heart."
Dylan gives her credit to her senior big sister, Olivia Meyer, for helping Dylan understand her role as a part of this great team. Not only does she look up to the older girls on the team, but she aspires to be like Sarah Sponcil, a UCLA graduate who plays professional beach volleyball. With such amazing and talented role models to look up to, Dylan is set for future accomplishments with the Cedar Park team. She hopes to one-day play division one volleyball at the University of California at Santa Barbara, which is not far from reach, even for a freshman. "I hope that I make an impact on the CPVB program in any way possible and to keep growing and learning new things every day," Gilkey said.