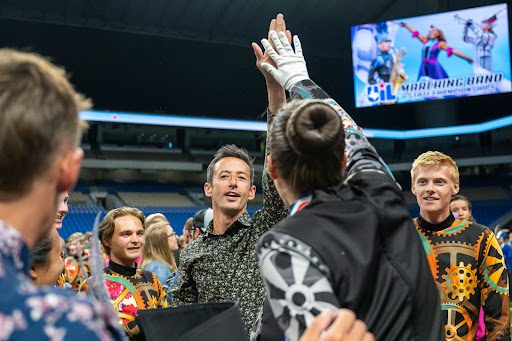 The drum major lowers her arms and everyone stills, the giant crowd erupting in applause. A few of the performers exchange quick looks, sweat dripping down the sides of their smiling cheeks. The smiles plastered across their faces are not just from the choreography, though—they are smiling because they know that was their best show yet.
After winning the UIL 5A State Competition on Tuesday night, the band now has five consecutive state titles, adding up to seven in total for the school. The path to this year's state win was especially rockier than past years, however. According to Head Director of Bands Christopher Yee, the show the band rehearsed this year was challenging, and did not get the band a first place result until its final performance at the state competition.
"We were really proud of the kids' performances," Yee said. "I will say we probably came out on top in the end because we had a very difficult show this year. It took a long time to get it just right, and then the UIL state championship contest was very late season. Because it was so difficult, it took a long time to get [the show finished]. And we didn't get the points [we needed to win] until we got it right."
Two days before the state contest, the band competed in BOA San Antonio and came in ninth place overall and second in its class, losing to Rouse High School. After finding out their BOA results, the band spent Sunday's practice working on and improving their show for Tuesday's performance.
"We got to sleep in [on Sunday before practice], so that was good," Oshrat Turjeman, saxophone section leader, said. "[But] in BOA we had a three-point gap between us and Rouse. During that Sunday rehearsal, we closed that gap because we cleaned so much [in the show], and so when we went on Monday [to the UIL state prelims], we closed that gap and then we made a new gap between us and Rouse. That [last] rehearsal was going to break us or make us, and it made us."
Sunday's practice was also an important rehearsal for the morale of the band, Yee said. During practice, students were able to finish practicing the final details of their show.
"We got a lot done," Yee said. "The kids were tired. I sensed that they were a little disappointed that they didn't place higher at BOA, but I was impressed with how hard they worked and how they didn't give up. Even though they were disappointed, they still had hope. I don't think I said anything specific to raise the kids' spirits, I think I think we just continued on, like normal. And I think that that sends a message that may be even more powerful than words. Letting them know that we were proud of them, they were getting better, and they're going to continue getting better, but that they need to keep working. Our best performances were still ahead of us."
For freshman Maddox Jameson, the BOA results proved to be worrisome, as band members did not know how the state contest would compare to BOA.
"I was kind of scared after we got beat [at BOA]," Jameson said. "I knew that the rubric at state versus at BOA San Antonio were completely different and that we still had a large chance to win, so I wasn't entirely worried, but it was hard to not let doubt creep in."
To help her section stay motivated for the state contest, Turjeman recognized the difficulty of the work they were doing and kept her feedback positive during practices.
"It was a long season," Turjeman said. "Long, very rigorous, and it was hard. We didn't even expect to win. The whole season was rough. I'm always encouraging [my section] and being there for them, and also helping them achieve their goals, which helps me achieve mine. We're not really about placement, or so they say, but everyone loves winning. We worked super hard to win."
In the hours before the prelims round, the band rode a bus to San Antonio, where they got ready to compete in the Alamodome. During the drive, students prepared to perform in front of the judges physically and mentally.
"On the bus ride, we were very focused," Head Uniform Officer Makena Filippoff said. "Prelims we threw down; we were very happy with the results from prelims. For finals we knew we had to give it our all, because it was our last performance, so we had to do whatever it took to make Cedar Park proud."
During the finals round of the state contest, stress levels were high, and when the band was finally announced as the 5A State Champion, Jameson said he could not believe it.
"
[Winning state my freshman year] definitely layers on a solid amount of pressure, but watching at how high of a level the whole band worked this entire season gives me confidence that we can do the same for years to come.
— Maddox Jameson
"[Winning UIL state contest] took a while to sink in," Jameson said. "Even after it was announced that we could 'break ranks,' which basically just means to be able to wander around the field with the other bands, I was in denial or shock and barely celebrated at all. Even now, it's difficult to comprehend what we achieved. Nonetheless, it was an incredible moment that we got to share with our friends."
The bus ride home from the state win was unforgettable, Turjeman said, but the band was mostly drained and sleepy on the way home from San Antonio.
"I was so tired [on the bus ride home]," Turjeman said. "But it was very nice. Everyone was super hyped up, and we were excited. We were very proud of what we did. But I think a lot of us were just sick, tired, and we just wanted food. We were ready to come home."
This year's state win journey was different from all the others for many reasons, including the bond between the group of kids that make up the program and the problems they faced. Because of the difficulty of the show, the band spent many months preparing for this contest, keeping their heads high through it all.
"Every year is different," Yee said. "The show is different, the kids are different, the challenges are different and the competition is different. This [year] feels a little more special. They're all special, but this one is particularly special because it was so hard fought. We've mentioned several times to the kids that they seem like they're one of the happiest bands we've ever taught. They're just happy kids. This year's student leadership team stepped up more than normal. I think that they're very talented. Because it was a hard show, they have a lot of skills and a lot of determination and grit."
For Turjeman, the state title is not as valuable to her as the experiences she has had during her four years in the high school band.
"It's not about winning, it's more about the process," Turjeman said. "I've made so many memories this year. I feel like, as a section leader, I established a lot of good relationships with people in my section that I feel will stay [with me] longer than just winning state. State is a huge deal, but I feel like relationships matter more."
On their way to state Monday morning, the band was sent off by community members, who lined Cypress Creek road. The band got a police escort as they began the drive to the competition.
"We're just really thankful for everybody that surrounds us, our office staff and our teachers and our community and our parents, because it's more than just the students and directors," Yee said. "It's the entire school and the entire neighborhood that puts us up [with us]."
In previous years, UIL only held the state band competitions every other year. From the 2023 marching season and on, bands will compete every year for the state title. Yee said this change does not mean much for the band besides having to travel to more competitions.
"Every time we compete in [UIL], it's another bus ride to San Antonio," Yee said. "[Competing every year will take] a lot of extra time, a lot of extra money and a lot of extra energy. But it doesn't change what we do. Our band calendar is the same every year. It just adds two additional contests, area and state, every year."
In between marching band seasons, the band practices for concert band, where they perform concerts throughout the rest of the school year. The band will begin practicing for their winter concert next week.
"Our year is divided into two," Yee said. "We sit down and play what we call a concert season [after marching]. In concert season, the music is quite a bit harder, but [the students] are not moving while they play it. That's what develops their musicianship and their skills on their instrument, which in turn makes the marching better for next year."
With five consecutive state wins under their belt, band members are both proud of what they have accomplished and anticipating what the band's future success will look like.
"[Winning state my freshman year] definitely layers on a solid amount of pressure," Jameson said, "but watching at how high of a level the whole band worked this entire season gives me confidence that we can do the same for years to come."
Story continues below advertisement