Anti-Bullying Boy Band takes CPHS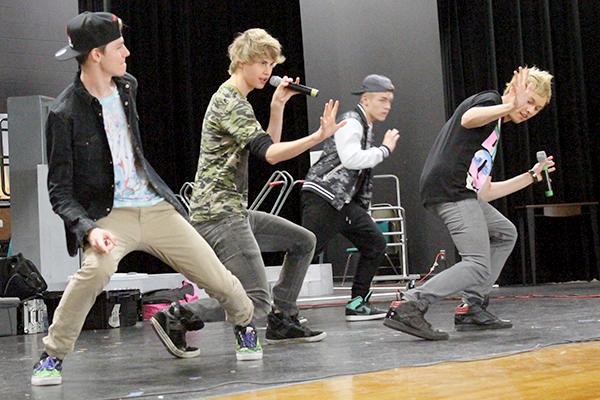 On March 26, the boy band After Romeo visited Cedar Park High School, one of the many stops on the 2014 Bully Proof Tour. The group performed a small concert during both lunches to promote the anti-bullying theme and their concert later that week at Lakeline Mall.
The band partnered with the Bully Proof Tour in order to combat bullying in schools across the country. The tour started March 15 in Phoenix, AR, and will end May 10in Boston, MA.
"The intended purpose of the event was to educate students on the topic of bullying and how it affects everyone differently," said No Place for Hate president Monica Harkins. "The members of the band each had their own story on how they overcame their insecurities, but look where they are now: touring sharing their passion for music with millions of people."
Harkins, being No Place for Hate president, was the tasked with helping the band with setup and hanging out with them between lunches.
"When I met the band I kind of got a little nervous but the guys were really sweet and talented," Harkins said. "After the first performance I relaxed and was able to get to know them a little bit better."
Students were even allowed to come on stage and talk with the band afterwards.
"After Romeo impacted the students by showing us that it's never too late to chase your dreams," junior Sophie Aramburu said. "They taught us that standing out can be a great thing."