Back at it again: boys varsity golf goes to State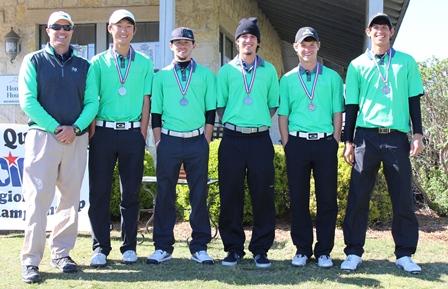 In their last tournament before State, the boys varsity golf team competed at Comanche Trail on April 14 and 15. After facing bad weather the first day and improved conditions the second day, the team placed second overall.
By placing inside the top three, the whole team has the opportunity to play at State on April 28 and 29. This year, the team includes seniors Chase Ezparza, Justin Meredith, Jordan Sanders, Von Small and junior Charles Kim. They agree that their goal for the season is to win State.
"My goal coming into this tournament was just to help my team advance to State," said Sanders, who shot an 81-72 and finished in seventh place. "I wasn't ecstatic about my first round, but I was happy that I could help my team the second day and pull through and advance."
Meredith, who shot a 73-77 and placed fifth, claims that the harsh weather affected the team's standings.
"Yesterday the conditions were the hardest any of us have ever played in," Meredith said. "The winds were a constant of 29 mph and gusting at 45 mph."
Despite the strong winds, Kim shot an 80-71.
"My 71 really contributed to the team since our goal was to go to state this year and win," Kim said.
For Small, who shot 83-80, preparing for State means practicing daily.
"I think that there is a team or two that we need to gain ground on going into State, and it all comes down to these next weeks of preparation," Small said. "I'm preparing for state by practicing and playing every single day from now until then."
Ezapza acknowledges the end goal of all the practice, reaffirming the goal of going to State.
"So far the highlight of the year is making it to State for the second time in a row, and hopefully it will be winning State next week," said Ezparza, who shot an 83-77.
Regardless of the results of next week's state tournament, the boys have achieved personal and team goals throughout the season. Regarding his first place finish the first day and fifth place standing overall of this tournament, Meredith reflects on his goals and improvement.
"This is a huge improvement from last year when I wasn't even top 15," Meredith said. "Now I'm first team all-region."
Ezparza's personal goal has taken preparation throughout high school and has been achieved as well.
"My major goal was to play well enough to be recruited by a college," Ezparza said.
Next year, all of the seniors are looking to play in college. Ezparza will play for Oklahoma Christian, Meredith is undecided but is still open to opportunities, Sanders will play for Texas Tech and Small is looking at Oklahoma Wesleyan.