The Cedar Park High School Timberwolf Band sent a select few to San Antonio this weekend to represent the state champion band. Sophomore Nello Kotyuk, juniors Austin Cernosek, Peter Menchu, Courtney Register, Johnny Theisen, and Anna Wessels, and senior Anthony Cortes performed with the Texas All-State Band at the Henry B. Gonzalez Convention Center on Feb. 16 as a part of the 2013 Texas Music Educators Association.
Led by Steve Wessels, the seven students rose to the honor from the district, region and area levels of competition. The journey for the entire band began in the fall of 2012 and ended with yet another state championship title. The selected area students not only played a part in that process, but a new one as well.
"The experience connected me with other kids of my caliber that enjoy music as much as I do," Theisen said. "The music is more fun but also more challenging."
After the semester-long addition process, the seven Timberwolves found themselves a part of the 1,500 students that were selected from the 60,000 student pool. Individuals throughout the state are ranked and selected by a panel of judges. Next, the musicians advanced to area competition in which they competed against seven other sectors. Those ranked highest qualified for the All-State group.
"After better auditions, being in a higher group made the experience more fun," Anna said.
Three days of rehearsals later, nationally-recognized conductors and educators led the selected student musicians in All-State performances.
"We were surrounded by the best musicians in the state," Anna said. "Because of our energetic composer, we never got bored with the music."
A few of the students were not new to the limelight. Cernosek, Theisen and Anna received the honor once in the past with the TMEA All-State organization. Returning to the stage, these students saw the opportunity to performing with elite musicians once again.
"I was more prepared and more experience than freshman year," Cernosek said. "I had a lot better time than I did two years ago."
Mr. Wessels has had experience with the TMEA as well. He is a member of the association of over 11,000 musicians in Austin. The group values itself upon excellent music education through school music teachers.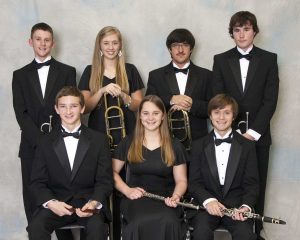 Story continues below advertisement