Celeb spring show aims to Inspire audience
The Celebrities dance team of Cedar Park High School ended their 2013-14 dance season with their annual Spring Show April 10-12. The show included the Celebrities, Emeralds and other members of the high school's dance classes. This year's theme was Inspire, and the team integrated a lot of inspiration from people in their personal lives to make the show come alive.
"The show was centered around the different things that inspire our team, such as hard workers and people who continue on in the face of difficult times," Junior social officer Kaleigh Welch said. "We focused on what inspired us and how we could inspire our school and community throughout the whole year rather than just the show."
The Celebrities did a number of performances that brought the team together, and as Welch can attest to, teamwork is an important part of dance.
"Our team was much closer this year than last year's team, and our dancing showed it," Welch said. "Being such good friends with all the girls makes us perform better and more cohesively."
Senior captain Devan Dudek agreed.
"It is really easy to see how well we work as a team through our dances," Dudek said. "It shined through and made our dances that much better."
The team, comprised of seniors, juniors and a few underclassmen, will have a lot of returning members for the 2014-15 season. With officer tryouts having just ended, the team is eagerly looking forward to next year.
"There are many talented girls who will be on the team next year," Welch said. "It will also be my 6th Spring Show as well as my last, and I am really looking forward to it."
About the Writer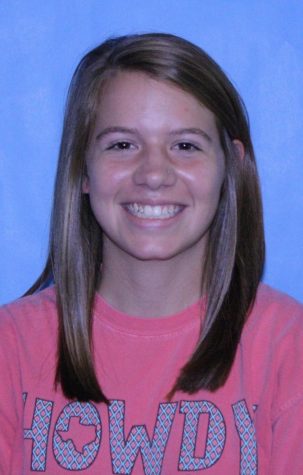 Paige Parks, Writer
Paige "Swaggie" Parks is a junior and second year staffer for The Wolfpack. Born and raised in Cedar Park, she loves the area and its proximity to Austin. Paige is a member of the Fellowship of Christian Athletes and plays varsity softball for CPHS. When she is not playing softball, she drowns herself in homework. She enjoys spending time with her dog, Duncan, and buying him cute sweaters that he refuses to wear. Her favorite teacher is none other than Mrs. Hert, whom she admires. Paige is looking forward to another great year for The Wolfpack.