The Wolfcast goes live
In past years, the Wolfcast has filmed their show during the first and fifth period Broadcast classes and then presented it during second and sixth periods in a pre-filmed show. But now, for the first time since its creation, the Wolfcast has gone live.
"We have to have everyone ready and prepared before we film," sophomore Katy Stevenson said. "We used to have multiple chances to get everything right, but when we go live, everyone is watching and you have to make sure to get it right the first time, which takes strict concentration."
Creating a live show takes effort from everyone, even people who are not on the show. There is new equipment to set up, animation and separate video segment timings to get right and a dedication from all the Wolfcast members.
"At first it was really nerve-racking for everyone," senior Russell Hess said. "But going live has also relieved some of the nervousness when you are on screen."
The students who are on the show claim that they need to be much more prepared for the live shows.
"Everything needs to be ready before we start," sophomore Julien Mallet said. "For live shows there are no second chances, and everyone is much more professional and works harder for the show to be good."
The Wolfcast goes live every Friday at the beginning of second and sixth periods. Be sure not to miss it, and remember to make it a great day or not, the choice is yours.
About the Writer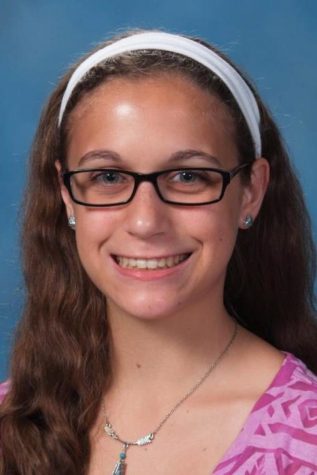 Lizzy Lamm, Writer
Sophomore Lizzy Lamm has always been interested in writing. She started writing creative stories in sixth grade, and created the middle school newspaper in eighth grade for her girl scout silver award project. She continued her love of writing into high school, and this is her second year on the Wolfpack newspaper staff. This year, she is also vice president of the new creative writing club, and secretary of the CPHS book club.