Theatre doesn't fall short in first performance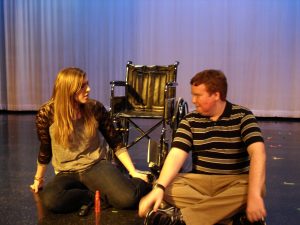 The camera was rolling on Oct. 25 when the Theatre Productions I and II classes debuted their acting chops for the first time. They performed a collection of shorts, 10 scenes from modern American dramas, for their first performance.
Theatre teacher Jerry Blake oversaw the performance, but the students researched and selected their own scenes. The performances ranged from tear-jerkers like "'Night Mother" performed by sophomore Lennie Oas and freshman Linley Eilers, to laugh out loud drama-dies like "The Man in the Dog Suit" brought to life by sophomore Samantha Corey.
The audience was very impressed with the new up and comings, including technical theater teacher Israel Aviles.
"It was the first time out for some of these actors, they did a great job and learned a bit," Aviles said. "They used this as preparation for a much bigger show: 'Much Ado About Nothing'."
In the mean time, theatre will also be performing Shakespeare's "A Midsummer Night's Dream" at the Curtin Theater on Nov. 9 and 10 at 7:30 p.m. Tickets are $5 and can be purchased in C102, online at www.cphstheatre.org or at the Box Office of the The Curtain Theatre.