Giving Back One Step At a Time
Celebrities Host Colon Cancer Walk in February in Honor of Stacy Danielson
Ever since her death in 2018, Stacy "D" Danielson left an everlasting legacy at CPHS. In her honor, the Celebrities Dance Team hosted a walking marathon to support the funding of cures for colon cancer on Feb. 29.
"We started doing this walk two [years] ago," Celebrities Dance Team Director Nikki Evans said. "D was actually able to participate with us in the first walk. I think it might have been just been some of our parents' and booster organizations' idea to not only give back to a good cause but also honor D in that way. We did that her final year as the director, we did it last year, and we[did it] this year and we're going to probably do it forever here on out."
Danielson was diagnosed with colon cancer in June of 2016. After her battle of two years, Danielson passed away in July of 2018. Evans reflects on her experience with Danielson and the legacy that she left behind.
"The most important thing that she brought to this organization was mainly comfort [and] humility," Evans said. "She made the dance team about dance, obviously, but beyond that. She impacted all of her student's lives inside of Celebrities, as well as the entire school and the community and everything she was a part of for the 17 years she was here at CPHS."
The goal for this walk, according to Evans, was to give back to D and give her a tribute to all that she has done for the team. The event was open for anyone to participate in.
"Anyone could participate in the event," Evans said. "We had a page that [was] shared on social media called "Stacey Strong," [the] team name this year. As far as I know, I think the new middle school, Stacey Danielson Middle School, also created a team as well. We're really trying to, in the future, make this a community-wide event versus the school or dance team. This year, and last year, we've invited all of the Celebrities to join our team and then any faculty here on campus that wanna join, as well as just anyone in the community. We want[ed] everyone to be a part of our team to help raise as much money as we can for the cause."
Several members of the celebrities had the opportunity to participate. The members looked back on their experience with participating and Danielson herself.
"It makes me feel great supporting my former dance director, Ms. Stacy K Danielson and others that have experienced the illness," senior Celebrity Samantha James said. "It is beautiful to see a whole city come together in support for this cause."
James said she was glad to have Danielson as a coach and mentor.
"She was a leader, inspiration, queen, support system, cheerleader, dance mom, mentor, strong individual, and [an] all-time boss lady." James said. "Stacy Danielson was the most kind-hearted, genuine and successful young woman [that] I have had the blessing to have come into my life."
Holding Danielson forever in their hearts, the Celebrities wish to continue giving back to the community according to junior Celebrities captain Rylee Tonacao.
"I think this event has definitely inspired myself as well as [the] celebrities organization to keep continuing to serve our community," Tonacao said. "This event, particularly, has such a special meaning for us as a team as it relates to our late director, Stacy Danielson. The important thing about this event is it taught us, not only to give back, but to raise awareness for different issues, and different things that we need to solve. So, I think, as well as helping out the community, participating in events like this has showed us that we need to raise awareness for certain things, as that is an important factor to solving problems."
According to Evans, Danielson continues to inspire the Celebrities in moving forward and doing things for each other as well as the community
"When we think about her legacy, we think about giving 100% every single day even if we are tired or not feeling great," Evans said. "She really taught us how to persevere and push on through hard times, as well as being kind to each other and knowing how to make people feel loved and comfortable and seen and heard here in our dance team."
About the Contributor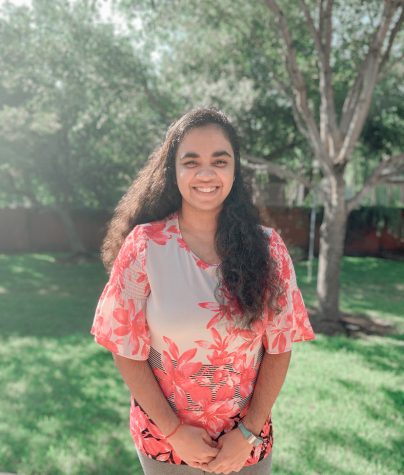 Ruchi Sankolli, Reporter
Ruchi Sankolli is a junior and a second year reporter. In addition to being a member of the Wolfpack, she is also the president of the 4H Toastmasters club. She loves to read and write stories in her free time. Ruchi likes writing research articles. She plans to attend UT Austin or Texas A&M after she graduates to become a scientist. Ruchi also loves animals and helping people. Because of this, she loves serving the community in the best way that she can.