The Carnival Closes Soon
Band Heads to BOA San Antonio Friday
Rain has been a big factor for this season, with the marching band only performing in one fully completed competition out of the three BOA competitions that Cedar Park was scheduled to compete in. The students in the band have truly conformed to "trust the process" through difficulty this year due to inclement weather. The Cedar Park Band's production for 2018 is entitled "On With The Show." It acts as a carnival, and there are many instances of playful music that would relate to a Carnival.
On Nov. 3 and 4, Cedar Park will be competing in BOA San Antonio, which is Texas' biggest competition. Eighty-seven bands are scheduled to compete for the fourteen finalist spots, and Cedar Park has proven in recent years that they can make the cut, making finals every year since 2006.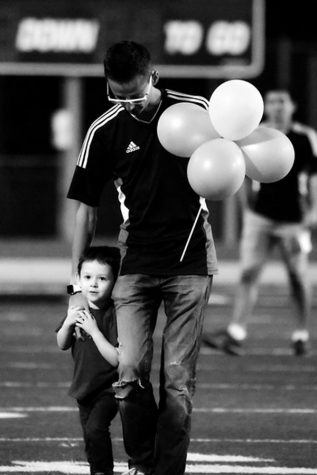 "The machine that is the Cedar Park Timberwolf marching band is larger than I expected it to be," Head Marching Director Christopher Yee said. "It was large because my responsibility within the organization has increased by at least 500 percent."
This is Yee's second year as a band director and his first year leading the marching ensemble. His insight on design of a marching production is fueled by an early job in his career with the Santa Clara Vanguard. This year he has had a big part in the design of this "monster" of a show. What the members march on the field is known as drill, and this year, the production entails 20 more pages of drill than what was in the show last year.
"This year's production is two minutes and fifteen seconds longer than what we put on the field last year," Yee said. "There are seven musical movements as opposed to three parts. The visual demand and the complexities of the drill are far greater. The sophistication of the content is far greater."
With the last week of the marching season fully in stride, the Cedar Park Band is working to make their last improvements needed to set the scene in San Antonio this Friday.
"
The end of year energy is bigger than any one of us."
"The end of year energy is bigger than any one of us," Yee said. "The parent volunteers came to decorate the band hall as we have consultants flying in from around the country to help us improve. It's truly a community effort."
The Cedar Park Timberwolf Band performs in BOA San Antonio competition this Friday, Nov. 2, at 7:45 p.m. Updates about the band's success can be found @CPHSNews on Twitter.