A Lost Phone, Breakup & Overpriced Food
A First Timer's Experience at Austin City Limits
The lovely smells of weed and drunk adults wafted through the sweaty crowds at Zilker Park on the first weekend in October. What might have been pleasant for others was certainly not for me. Yes, watching the iconic performances of Doja Cat and Billie Eilish did make up for the chaotic atmosphere, but boy oh boy was ACL an experience. 
The day I found out that my friend had free tickets for Weekend One on Oct. 2 and 3, I lost my mind. I had dreamed of going to ACL since I was a freshman, seeing girls' Instagram posts with exotic outfits and excessive amounts of body glitter. I wished it was me, so you can imagine my excitement four years later, finally having the opportunity to go. 
I surfed ACL's Instagram to check the lineup: Surfaces, Doja Cat, Dayglow, Phoebe Bridgers, Arizona Zervas, Gracie Abrams, Billie Eilish, Mother Mother, Greta Van Fleet, Polo G and Tyler, The Creator. These were just some of the concerts I was looking forward to. I planned out our schedule with my best friends and fellow seniors Grace Aggen and Sarah Ghormley. 
On Saturday, we arrived in the afternoon, just in time to watch Surfaces' concert. I knew their music and style for the most part, but I didn't realize how close we were to the stage, and more importantly, the hundreds of speakers. Between the smoky smells of college students and the stomping on my white shoes (which was a mistake on my end), I didn't really process the chaos. Thankfully, within the first half hour, a 'boxed water' was chucked my way, and I was able to hydrate again. No way was I spending another $5 on 'Liquid Death.'
During that concert, my very first concert I might add, I literally felt my entire body shake with the vibrations. It was scary, but so cool. After that, we went to grab some food. I opted for a $10 acai bowl, which cooled me down a bit from the unwavering 92 degree heat. We had a little bit of time to catch before our next big concert: Doja Cat. I was most excited for this concert. It was being held at Ladybird, one of the larger stages near the lake. 
The crowd was huge. Even being half an hour early, the field was jam packed, and it was crazy trying to get decent spots. We ended up behind the VIP fencing, shoved in between a couple who wouldn't stop kissing and some kids who looked a little too happy. This is the ACL experience, though, or so I've heard. Doja Cat's performance was incredible, like I expected, and I didn't mind straining my neck so much to see her live. I thought the stage was decorated quite awesomely – with a cool nature theme – that was catered perfectly to her performance. 
We bounced around Zilker Park for the rest of the day, either at the barricade for Dayglow or pushed back near the flags for Billie. At the end of the night, I was completely exhausted. Sure, I had had a lot of fun dancing and screaming my head off, but for a more introverted person like myself, my first day of ACL was completely draining. I had no idea if I would make it through the next day.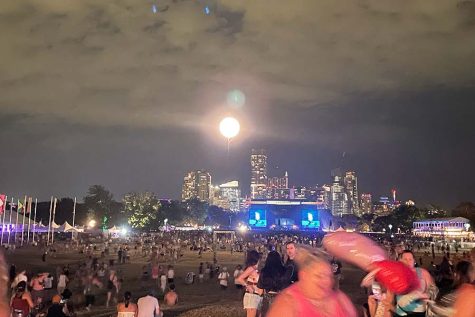 But, I went on Sunday anyway. I had woken up with more energy than expected, and put a good hour into my outfit, having now known to create an outfit both cute and practical for the weather. I settled on some green cheetah print biker shorts and a black top. I had the time, so I put my hair in pigtails. As I mentioned earlier, I have always loved the crazy outfits people wear to ACL. I think it's such a cool opportunity to be able to express oneself in such a unique way. Plus, there's no judgement. I did not see one similar outfit out of 76 thousand people who attended that day, which is wild.
We got there late afternoon, and I was ready to embrace the full experience. Or so I thought. My first mistake was getting as close to the stage as possible during Polo G's performance, and the second one was thinking that I would not get caught in the growing mosh pit. As soon as Polo G walked onto the stage, the crowd went insane. I was immediately squashed in between incredibly tall dudes and groups of sorority girls. Then the mosh started. I was slammed hard against the backs of those in front of me and shoved toward others relentlessly. I had zero control over my body. But then again, that's the true experience of a mosh pit, and I quite enjoyed the wildness after I got over the fact that I was a moment from being trampled. All was well until I looked down. Where my phone had been, there was now an unzipped fanny pack. I freaked out. My phone was gone. 
Looking back on it now, I don't know what I expected. I really should have been more aware; although, what bothers me the most is that I managed to hold onto a plastic Hint water bottle the entire time I was being thrown around. But whatever. At least I get to say I moshed at a Polo G concert. 
After failing to locate my phone in the mess of people, my friend and I decided to leave to go alert the lost and found and get our other friend. However, we were instead met with a not-so-happy, someone-who-had-just-gotten-dumped face from our friend. So on the way to track down my lost phone, there were lots of emotions circling through our little posse. I alerted the lost and found, told my parents and attempted to file a police report.
A few hours had gone by, and I was losing hope. Retracing my steps didn't help, and I instead met similar groups facing the same problem as I. So much for Find my iPhone and Life 360. 
Fortunately, Greta Van Fleet was about to start playing at Ladybird stage, and we all needed a good distraction. Their performance was fantastic and had just an all around good vibe to it. It was a good pick me up. Afterwards, the $12 ice cream did little to distract me from the fact that my phone, along with all my cute pictures, would not be headed home with me that night. I regretted my decision to go Sunday, for quite obvious reasons. 
ACL was not what it had been hyped up to be.
However, nine days later, my mother got a phone call. We were out dress shopping at Macy's in California after touring seven college campuses in four days (a story for another time), when she received a phone call from an officer claiming he had found my phone. I stood there, basically frozen and in utter shock. It was definitely my phone. I had to describe the lock screen and other characteristics about the phone only I would know, such as my Widgets and passcode. However, when asked to describe my case, the clear case with purple borders was not what was protecting my phone. Instead, it had been replaced by a clear checkered pattern case with black edges. I can only assume that whoever took my phone switched cases or something similar for disguise. Ah, pickpockets.
Whatever happened, I am just glad I got my phone back, and I'm sure the hundreds of others who got their phones stolen are grateful as well. Lessons were learned – be conscientious of your surroundings and don't get sucked into mayhem if you aren't fully prepared – and my wild ride finally concluded.
I do agree that these personal experiences limited my liking to this music festival, and I know that it is not like this for everybody. I think ACL is an amazing opportunity to see your favorite artists (and for a lot cheaper, I might add) and simply be a part of the Austin culture. Despite everything I went through, I would be open to attending ACL again, only with the addition of a padlocked fanny pack and maybe a bucket of ice.