Academia in Bloom
Students in Floral Class Make Wedding Arrangements, Discuss Process
Even with the new regulations and changes, many hands-on classes have discovered creative opportunities to give students the experience needed to be successful. For students in Advanced Floral Design, taught by Shannon Butler, the hands-on experience came in the form of a wedding.
Biology and environmental systems teacher Shawntel Lopez reached out to Butler and her students asking if the class could make arrangements for her wedding on Nov. 14. During the months of planning, Lopez worked with the students to create the design of the arrangements. She sent the class a Google Form with the details of her wedding as well as a few ideas of how she wanted the final product to look.
"I always knew I wanted to incorporate students into the wedding in some way," Lopez said. "When I met Ms. Butler and she told me her goals for the class, I jumped at the opportunity to have the Floral Design Class involved. We had discussed this even before the pandemic hit, and once it did it felt so much more personal for my now intimate wedding. I wanted people I knew and trusted involved and I knew Ms. Butler and her students would do an amazing job."
Although the class was not able to begin creating the arrangements until a few days before the wedding since they were working with live flowers, Butler said that the students still planned months before the wedding in order to make sure the design was perfect.
"We started planning everything about two months prior to the wedding," Butler said. "The students developed a questionnaire to send to the former Ms. Lopez in lieu of having a sit-down consultation. I would have loved for the class to have a consultation, but our schedules just didn't work out for that. I had to submit the flower order about two weeks before the wedding."
Although the designs and preparations were made in advance, a few of the arrangements had to be put together on the day of the wedding in order to keep the flowers fresh. Students in the Advanced Floral class were split into groups to work on different arrangements; some students worked on the bridal bouquet while others put together the centerpiece or the bridesmaid bouquet. Senior Skye Lindholm, who worked on the bridal bouquet, said that she enjoyed the overall experience. 
"It was a fast process, we got the materials and then did it all in one class period the next day," Lindholm said. "I would definitely participate in something like this again, I loved doing everything. I was super excited. I've never made arrangements for such a formal or special event. I was a little nervous, but super ready to learn."
While Lopez said that she was able to see the flowers that were used in the arrangements beforehand, she did not see the finished arrangements until the day of her wedding. Lopez said that she was very happy with the final results that arrived on the day of her wedding.
"I loved the idea of students getting hands-on and personal experience," Lopez said. "I had looked through photos that Ms. Butler sent in emails and I loved everything they put together. I was blown away, instantly in love with [the final arrangements]. They were absolutely perfect beyond what I could have imagined."
With six years of teaching experience, two of which have been spent at Cedar Park, Lopez said that she had always wanted to somehow include students in the plans for her wedding.
"Teaching has become such a large part of my life that I wanted to honor that piece of myself in some way," Lopez said. "I originally had other plans that included past students, however, due to the pandemic those did not work out. Getting to see the students at work outside the school, one of which was in my chemistry class last year was such an honor and I am hoping they will be willing to do it again next year during my reception."
About the Writer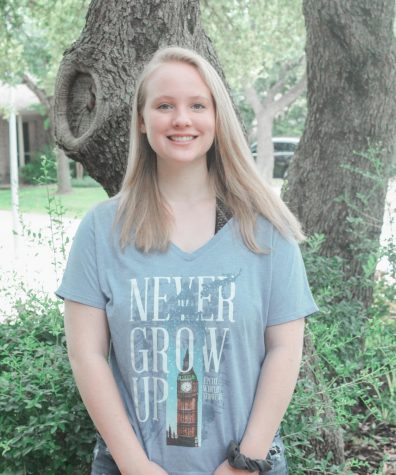 Morgan Kasel, Assistant Editor
Morgan Kasel is a senior and this is her third year on the Wolfpack staff. The majority of her free time outside of school is spent playing soccer, reading or watching her favorite professional team, Atlético Madrid. She loves writing about people's experiences in life, as well as creative short stories for fun. Her dream school is Gonzaga University in Washington and she plans on studying kinesiology and journalism. She hopes to continue on to graduate school for physical therapy. She is passionate about languages and writing and plans to travel during and after college.