Creative Vision
Students Win in Scholastic Art, Writing Competition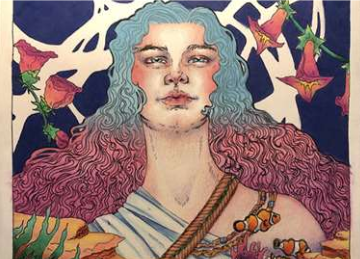 Toiling over every last detail of an intricate ceramic sculpture. Writing a fun short story then rewriting, then rewriting, then editing it after the flaws are made apparent on a re-read. Throwing away a piece which might have taken hours and hours of effort and rebuilding another one from scratch. These are the challenges that any artist with a vision could face, including participants of the Scholastic Art and Writing competition that recognized ten students in various categories for their creativity. 
The Scholastic Art and Writing Competition is administered by the Alliance for Young Artists and Writers, a nonprofit organization that recognizes artists and writers from the age of 13 and up by allowing them to submit pieces which can receive either honorable mentions, Silver or Gold Keys. There are 30 categories a competitor's work can fall under, and if a contestant receives a Silver Key, Gold Key or a scholarship for their work in their region, they can be considered for national awards as well. 
"In photography, you're allowed to submit more than one photo, but even with that I didn't expect to win any awards for it," freshman Kacey Miller, who won a Gold Key for her Photography submission "Horse Butt" said. "My teacher, Mrs. Davidson had experience in the competition and told me to submit that photo when, before, I just submitted a picture of horses beneath a sunrise. Achieving something like this in my freshman year is nice."
In the Ceramics and Glass category, junior Tess Adams was the only other student to win a key for her piece "Mother's Hand," depicting a black hand with its palm facing upwards. Inside of the palm is a smaller handprint, representing a child's inside the grasp of their mother's. The Silver Key-winning piece took a short amount of time to brainstorm, but weeks of sculpting and kilning.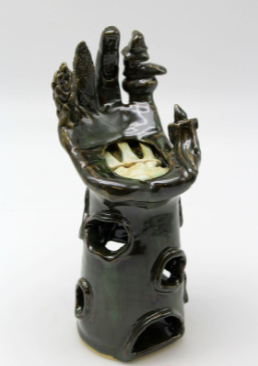 "When I came up with it, I thought it would just be a cool visual motif which was able to represent the role that a mother has on the raising of her children," Adams said. "After ironing out the details, it was easy to just move forward with the idea and stick with it to the very end, making sure it had the right colors and that it was kilned correctly. However, I had no idea it would win a Silver Key, and I'm glad about getting this award. I'm also glad to share this award with my art teacher, Mrs. Landers, who was invaluable in providing good feedback for the piece and guiding me." 
Art teacher Leslie Landers, who teaches Adams in the school Ceramics class, saw Adams build her work from the ground up. According to her, although she helped Adams with the process, the Silver Key fully belongs to her student.
"Adams notified me in that class that she was in a competition featuring the very same subject matter as the class and that she wanted some of my feedback regarding various aspects of her piece," Landers said. "Throughout this, she's been one of the hardest working students and was receptive to any advice that I gave her. She completely deserves the Silver Key, and I am proud of having artistic representation like this at our own school." 
The Scholastic Art and Writing Competition has a long history of rewarding students who later go on to dominate in their field, from famous visual artists like Andy Warhol to writers like Joyce Carol Oates and Stephen King. Therefore, the greatest significance of the competition can be its ability to recognize young talent and kickstart any future opportunities which they previously didn't have. 
Art allows me to express myself and my creativity, and I fit in with its community," junior and Honorable Mention winner Delaney Deruiter said. "Even getting noticed by the Scholastic Art and Writing contest is a big thing to put on your resume, and it's insanely impressive to any college." 
However, regardless of its role in aiding the future of young artists and writers, it is also a good experience for anyone who participates.  Deruiter, who was noticed for her piece "The Sea of Faith," says that the competition gives aspiring artists a chance to compare themselves with others and see what they are capable of. 
"I'm proud of my piece and the Honorable Mention award that it got, but any student would benefit by participating in the competition," Deruiter said. "Even if you don't receive an award, just competing in art events can help you make connections and learn more from similar aspiring artists. "