DECA Insider
Organization Helps Students Find Interests, Learn Business Along Way
An organization that promotes emerging leaders and entrepreneurs. An organization that makes room for community service, team bonding, guest speakers, competition and most of all, advocates for learning through fun. This is Distributive Education Clubs of America; this is DECA.
This year's co-president of DECA, senior Justin Nita, is competing this year in a writing event called Buying and Merchandising Operations Research, and said that he is motivated to make it to April's International Competition in Orlando, Florida. He competed last year in Buying and Merchandising Team Decision, a roleplay event, and said that the experience taught him several lessons that he will use for this school year's competitions.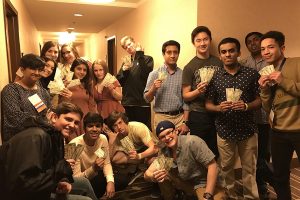 "Competition last year was a blast, " Nita said. "I learned how to perform under pressure and how to present in a calm and collected manner as well as being able to answer questions on the spot. Even if you don't foresee yourself going into business in college, you learn many life skills that will benefit you later on in life."
One of Nita's favorite parts about this organization is the connections students can make from it.
"My favorite part of DECA is being able to work with a very diverse group of people," Nita said. "I love hearing what others are doing in their competitions and learning new and interesting things from them. DECA is a great place to meet new people and make new friends."
The VP of Competition within DECA, junior Emma Mahler, said that in addition to the competitions being rewarding, she is thankful that DECA's Advisor Kimberly Stapleton boosted her confidence to present at district and state competitions alongside her partner, senior Greg Kaye.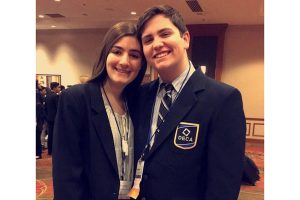 "Advancing to state last year and knowing my team was in the top teams to do so was extremely motivating for me to work harder this year," Mahler said. "It made it easier knowing that the DECA Advisor, Mrs. Stapleton, was there to provide us support and guidance in all aspects of my team's preparation for competition."
DECA has a wide range of competitions that focus on the business aspect of various fields. Junior Youalli Hernandez joined DECA without intentions of pursuing a business career and still found the club a great fit for her.  
"Last year I competed in Business Law with my partner Taylor Doluisio," Hernandez said. "I liked competing in this event because not only is law a career I want to pursue, but it was a partner teamwork that felt more comforting instead of competing alone. DECA is a safe place to be yourself and participate in things you feel comfortable, and I can't wait to try something new this year."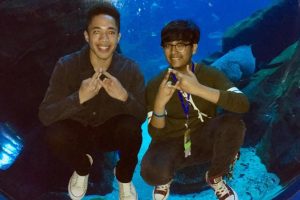 DECA member and CP Alumni Cheryl Cruz was inspired to join this organization when she found out it was similar to her favorite TV Show, Shark Tank. Cruz made it to state in 2018, as well as the international competition (ICDC) in Atlanta, Georgia, during her first year as a member of this club.
"My favorite TV show of all time is Shark Tank, so having the opportunity to bring all my enthusiasm and Shark Tank business knowledge in front of a judge was so much fun," Cruz said.  "I love public speaking, writing and design, so creating my own fake company was such a fun and unique way to showcase it. Making it to the international level of competition was really cool because not only does it validate you, it also gives you so much exposure and experience in the 'business realm' and you learn so much about people interactions."
DECA also has a community service project initiated this year called Lavender, which involves creating care packages for patients going through chemotherapy. Seniors Isabelle Thai, Nithila Ilangovan and Kelsey Jones started this project, and aim to leave a tradition as they leave high school.
"One of the things I'm looking forward to most about Lavender Care Packages is getting the whole school and community involved," Thai said. "Usually when a community service opportunity pops up in school, only a small group of people know about it, however this project is being presented everywhere, from local businesses to honor societies in the school.  It makes me really happy that people actually know about it and are telling their friends."
This year, DECA members who advance to ICDC, the international round of competition, will get to go to Disney World and Universal Studios in April of 2019. For more information on the competition, click here. To join our DECA Chapter, there are $30 dues, which covers the cost of a t-shirt, activities and competition. Meeting attendance is required and is in room B101 every first and third Friday during DEN. Upcoming October meetings will be on Oct. 5 and 19.