Dual Sport Athlete Balls Out One Last time
Senior Reflects on Soccer Achievements, Memories
Students learn early that playing multiple sports isn't easy, as planning and sleep schedule issues arise. There are only a few people that choose to keep fighting through hardship while being a dual-sport athlete, and one of them is senior Stryder Laster. He is a second team all-district defender for the soccer team and a cornerback on the defensive side of the goal line in football.
Laster has played football and soccer since his freshman year. He said he has enjoyed many different achievements throughout his four years at Cedar Park, making it to the third round in football playoffs and the fourth round in soccer playoffs.
"My favorite part about playing two sports is the difference in nature of each sport, the different workouts, practices, along with getting to play two sports that I love," Laster said. "My least favorite thing is getting back into a different kind of shape you need to be in for the other sport."
From winning football games, to winning soccer games, Laster said that he has made many memories over the past four years. He was in high school when the football team last won State in 2015, and made history this year when the soccer team advanced to the regional tournament for the first time in 14 years.
"My most memorable moment in football was the opening kickoff against Vandegrift," Laster said. "All of the lights were on and the fans were screaming super loud. It was an awesome experience and the atmosphere was unforgettable."
Laster said that the culture on Fridays is one of the most exciting parts of game days. People are getting hyped up to play hard, and nothing stands in between the Timberwolves and a win when they are ready for a game, according to Laster.
"
Putting on the helmet and stepping onto the turf is a feeling that not many people get to experience, and it runs the same with stepping onto the soccer pitch."
— Stryder Laster (12)
"My favorite thing about football is the physicality of the sport and the game day culture," Laster said. "Putting on the helmet and stepping onto the turf is a feeling that not many people get to experience, and it runs the same with stepping onto the soccer pitch."
After the football season ended in a close loss to Shadow Creek back in November, Laster hung up his helmet and pads and strapped on his shin guards and cleats for soccer season. The boys team won District with a 6-3-3 record. Laster said they have shared a new dynamic of playing for each other this year.
"From soccer, I've learned about teamwork and commitment to things in life," Laster said. "My favorite thing about soccer is my teammates and the brotherhood we have, and going out on the same field with them and balling out. My most memorable moment in soccer was when we won our round three playoff game versus Marble Falls in penalty kicks."
Laster's high school career in football and soccer has concluded, and he plans to major in accounting at the University of Mississippi. Laster plans to keep playing soccer through intramurals and meet people at his dorm and through rushing a fraternity.
"Throughout senior year, I learned a lot about myself," Laster said. "I learned that success comes with hardship and you have to earn something if you really want it. My advice would be to have fun while you can, and be sure not to overload yourself with hard classes."
About the Contributor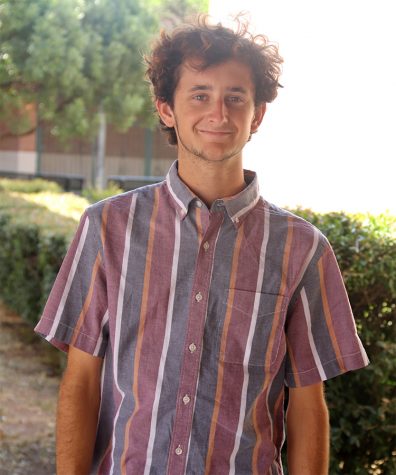 Noah Hedges, Reporter
Noah Hedges is a senior. This is his second year on the Wolfpack Staff. He's in the drumline here at Cedar Park, along with being the kid who plays the drum solo at half-time during football games. He enjoys writing about music and sports. Noah wants to march drum corps in the future and he is majoring in Music Industry with a minor in Graphic Design at the University of North Texas. Following college, he wants to teach and arrange music for High School Bands and Drum Corps.