Judge Livestock, Not People
FFA Members Speak About WCLA County Show
Goats. Lambs. Pigs. Steer. Rabbits. Chickens. An endless variety of animals, all prepped, bathed and blow dried to perfection. Showmen walk in and out of the dirt ring with their animal, hoping they will catch the eyes of a judge. It takes a certain determination and responsibility to handle the high intensity of taking care of, training and showing an animal. 
Throughout the week of Dec. 7-11, FFA participated in the Williamson County Livestock Show in Taylor. On Dec. 8, the lamb show started at 9 a.m. and the goat show started at 1 p.m., and on Dec. 10 the pig show started at 8 a.m. 
A lot of arrangements must be made in order to prepare the animals, as FFA members must turn in weight cards the night before the show and provide shavings, food and water to their animals for the 12-24 hours they are housed in the barn waiting for their show to start. 
LAMBS – Dec. 8 
The night before showing a lamb, students must wash their lamb's leg wool and wrap it with fleece to keep them clean and fresh for the next day. FFA Club President and senior Skye Lindholm said she packs necessary items such as drench guns, hay, lead ropes, chains, muzzles, shag brushes, sprays, water and buckets for show day. Lambs must be sheared everywhere except for their legs, as a little leg wool makes them look nicer for show. In addition, Lindholm drenches her lamb a few days before the show and clips their hooves a week before. 
"I typically don't get very nervous [for a show], but I do get a little stressed sometimes," Lindholm said. "To help myself prepare, I double check everything I packed, make sure all my show clothes are clean and ready to go and just try to relax."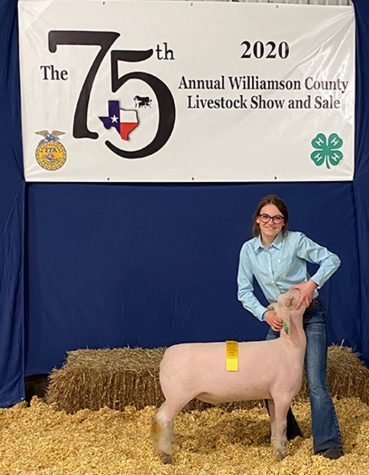 The morning of the show, students spend the last few minutes working on their lambs' shag, or the wool on their legs. FFA Club Sentinel and junior Lily Atkinson said she focuses on filling out her lamb, or making sure they get enough water and hay before the show so their flank is more even with the rest of their bodies.  
"The morning before the show is like the calm before the storm," Atkinson said. "Everyone's tired [and] not many people are up there yet, so the show barn is quiet. Then, before you know it, the barn is crowded with people rushing to get their animals ready. For me, the panic doesn't set in until I'm in line to show. The moment before I step into the ring [I feel] tired, excited, nervous and focused all at the same time."
During the show, judges focus on the structure and muscle of the lamb. According to Lindholm, different judges look for different things. 
"A main part of judging sheep is keeping in mind that you want to look at the whole sheep and not just one small aspect," Lindholm said. "For example, if a lamb has a really good rack and a super good loin, but is a tad smaller than another lamb, it could still place over that bigger lamb because it looks better as a whole and is more proportionate."
Showing a lamb requires a lot of technique and skill, as there are lots of things to be kept in mind when walking around the ring.
"There are about a billion things running through my head when I'm showing; like if their feet are set even, if their back is swaying [and] if they're squatting," Lindholm said. "When I show my lambs, I just tell myself to relax and stay calm, because if you're calm, your animal is calm. If you're nervous, the animals can sense it and it makes them nervous, too, which is something you want to avoid."
After showing the lambs, they are returned to their pens and given water to stay hydrated.
"When I'm in the ring, I get a huge adrenaline rush, so when I get out [of the ring] I come out of that rush," Lindholm said. "[I] usually get tired and my feet always hurt, but I also feel very accomplished."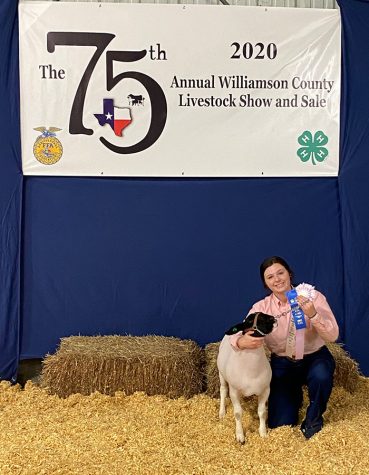 Lindholm earned Reserve Grand Champion Dorper, which will advance her to the Premium Sale on Saturday. The sale is an auction where buyers can bid on any animals that placed in the show. The winning buyer does not actually purchase the animal, but rather the exhibitor keeps the animal as well as the money donated. 
"I'm excited for sale," Lindholm said. "It's a chance to show off all my hard work. My favorite part about the sale is just getting your name out there. At shows and sales you meet so many new people and make so many new relationships. I'll probably save the money for college."
Lindholm also earned Grand Champion for Senior Showmanship. Showmanship is an opportunity for exhibitors to not only show their animal, but also let the judges see how well they conduct themselves in the ring. Judges look for the proper set up of animals and for exhibitors who present their animal the best, bringing attention to their strengths and minimizing their weaknesses. Grand Champion means Lindholm placed first out of all showmanship contestants aged 15 and up for the entire lamb show. 
"It feels great [knowing I earned Grand Champion for Senior Showmanship]," Lindholm said. I was very surprised. I knew I was doing good, and I thought I was going to get reserve, but I ended up winning the whole thing. I feel pretty accomplished- it's a big deal. I watched a video of me showing and it was so awesome."  
GOATS – Dec. 8
The next show that FFA had exhibitors in was the goat show, which started at 1 p.m. on Tuesday. Goats are usually shaved one to two days prior to showday and rinsed off and blow dried if they get dirty. They are kept in the barn overnight.  
"The night before the show I did my final bit of practicing with my goat," FFA member and sophomore Jackson Cox said. "Before the show we also gave our goats gold dust to help fill them out for the judges. To get him to look fresh and Cedar Park swag worthy, I gave him a haircut with our electric clippers at the barn and washed him with shampoo. Right before the show we used a drill with a [blow drier] attachment to fluff up their legs. To control [a goat's] weight, we made sure not to feed them too much, and we drench them with water and more gold dust to keep them hydrated."
Similarly to lambs, judges of goats look for muscular build and how strong they are. According to Cox, it's really important to feed goats the right amount of food and supplements for a balanced diet. Students also run their goats on treadmills for exercise to gain strength. 
"My favorite way to describe [building a goat's muscle] is that we're essentially raising tiny bodybuilders," FFA Member and senior Abigail Truman, who also shows goats, said. "There is a bit of a genetic element to it, but [the judges] look a lot at how much muscle your animal has."
Stepping into the ring can be nerve racking. Students must remain calm so their animals don't get freaked out, according to Cox. 
"I always say a quick prayer to myself before I show so that I can keep my mind focused on my goat," Cox said. "I was pretty nervous [for this past show] because my goat wasn't being super cooperative with me. Most of the time, I just tell myself that when we get in the ring, he'll do the best that he can, and that's all I can really hope for. In the end, I think I did a lot better than my last show and I'd call it a success."
Following a performance in the ring, Cox said that he checks that his goat has his coat and muzzle on before he puts him into the trailer and heads home. Cox placed sixth with his boer goat in the first light heavy weight class. 
"I think goats are really cute even though they can be jerks sometimes," Cox said. "It's also just fun to tell people I've had two kids and I'm only 16. I also just love my goat; it's a love-hate relationship, but mostly love."
PIGS – Dec. 10
The final animals shown for Cedar Park were pigs. The night before a show, students must wash their pigs, oil their pigs so that their skin and hair looks good and feed them and water them till they're full. Weight cards must be filled out, clothes must be pressed, jeans must be starched and boots must be clean. 
"Before the show, you generally feel excited and have adrenaline running through you," FFA member and junior Dean Hoppe said. "This is because you know that you might be able to win your breed or win the overall show."
The morning of the show for pigs is quite similar to the shows for lambs and goats. For FFA Club Treasurer and junior Callie Hobbs, making a list of all the supplies she needs, such as clothes, whips, feed and shavings, helps her. She packs up her trailer the night before a show, and the morning of she moves everything to the barn.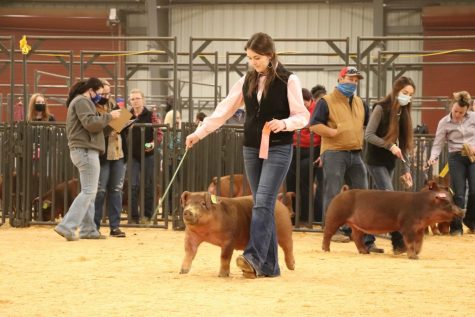 "The night before a show I tend to get super excited, but I also get a little anxious that I forget something important at the barn," Hobbs said. "I like to make lists of the things I am going to need leading up to a show because I know that it makes the nervous jitters a little bit easier to handle because I am more prepared."
The morning of a show, Hobbs said she wakes up a couple hours early to make sure she can get to the barn to wash her pigs before their class is called to show. She'll then change into her clean show clothes and finalize everything before she's called into the arena. 
"In the mornings before a show, I start to get very nervous, but also very excited," Hobbs said. "I get a lot of adrenaline when I walk into the show ring. I love the anticipation and the adrenaline rush because it prepares me to be focused in the show ring."
During the show, judges examine pigs for muscle shape and muscle production. In addition to looking for muscle, judges inspect the skeleton confirmation to make sure a pig is structurally correct.   
"I get really nervous right before I step into the pen," FFA Club Vice President and junior Kaitlyn McCord said. "Once I get in [the pen] and begin showing all the nerves go away and I begin to focus on making my animal look good. Something I remind myself [to do] is ask for [my pig] to keep its head up."
After exiting the ring, students must have their picture taken of them and their pig before returning back to their pen to leave. The trailer is then loaded up and readied for the trip home. 
"I was surprised that [my] pig that was supposed to do well didn't, and equally surprised when my other pig did better," Hoppe said. "I know that I showed the pigs well, cleaned well and took care of everything, but I still think I could work with my better pig and try to make him show even better. The future entails adjusting feed to accommodate for the later shows and making sure that the pigs are clean and healthy."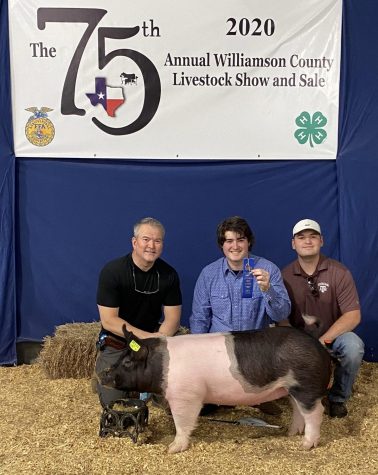 Hoppe placed first in the Cross Heavy Weight-12 division as well as sixth in the Cross Light Weight-2 division with his barrow pig. Hobbs also placed fourth in Duroc-1 with her duroc pig.
"I love my pigs because they're intelligent and each one has a unique and entertaining personality," Hobbs said. I've grown up around livestock, so I've grown up alongside each of my livestock projects. I love getting the opportunity to learn about the pigs and the agriculture industry."
FFA members will start 2021 with their eyes on the Major shows in Texas, from San Antonio in February to Houston and Austin in March. They will also start working on their Career Development Events, or CDEs, which range from Milk Quality & Products to Floriculture to Veterinary Science.
"FFA is a place where everyone can find a niche or something they're interested in," Atkinson said. "Everyone is welcome in this program and that's why I love it, because no one is left out and everyone has a place. FFA prepares kids for the future because it teaches us responsibility, work ethic and how hard work can pay off."
Overall Sale Lots for WCLA show:
Lambs: 
Skye Lindholm – Reserve Hair
Lily Atkinson – 5th place Southdown
Goats:
Ashlyn Sanders – 2nd place Heavy Weight 
Ana-Kate Partridge – 4th place Light Heavy Weight
Pigs: 
Jessie Mitchel – 1st place Duroc-1
Callie Hobbs – 4th place Duroc-1
Dean Hoppe – 1st place Cross Heavy Weight-12