Painted Lions, Tigers, and Bears, Oh My!
Art Club, National Art Honor Society Return
At the start of this school year there was only $26 in the National Art Honor Society bank account. Being virtual last year diminished extracurricular participation, and with only one lone returning member, the future of the club was in jeopardy. However, with the return of students in-person, both the Art Club and National Art Society have grown their club memberships to focus on community involvement and showcasing each artist's talents.
Every Tuesday after school, the Art Club and National Art Honor Society meet in art teacher Jessica Davidson's classroom to combine students with art passions into one collective organization.
"I wasn't even a member of the club yet," Vice President and junior Ariana Balakrishnan said. "But, our President, Delaney DeRuiter, who was the only remaining member, posted a bunch of signs and we got a big group together. It was starting a whole new club from scratch, so we coordinated Art Honor Society and Art Club to work as one now because of time and money restraints because we have really little funding right now. But, the club is super fun every meeting, [and] we do a certain project [with] a theme for the class, and it's just a super chill place."
Junior Aayushee Dasmunshi said she joined Art Club for the comfortable and friendly environment. Recently, the club has worked on updating their bulletin board with new art and a collage project with cut and assorted magazines.
"I'm not in any art classes this year, but I've been doing art for a while and realized [there was] a club," said Dashmunshi. "If you want the club experience, I think Art Club is a good place to join and the community is really nice. Being in the Art Club community has given me new inspiration, and you learn a lot from other people on a daily basis."
On Oct. 27 at Trunk or Treat, Art Club ran a face painting and pictures booth. Requests for face paint ranged from butterflies to skeletons. Secretary and senior Arina Gart said she believes the experience was not only memorable for the kids, but also for all the club.
"We got to do a bunch of different paintings, and since everyone is so talented in Art Club it turned out really good," said Gart. "There was this one baby who was waiting for his brother to get his done, and it was this huge tiger on his entire face, and he just looked bored so I asked his father if I could do his. I put little cat whiskers on him and he looked so annoyed the whole time that I was doing it because he didn't know what I was doing, [but] when he looked in the mirror he looked so happy. He was having the time of his life."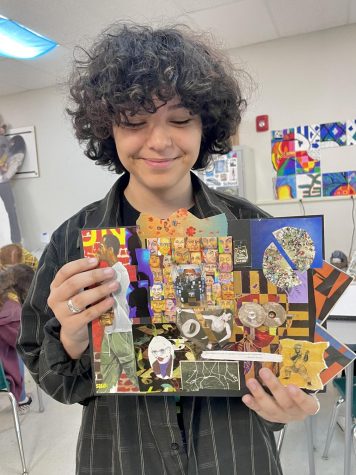 However, planning for this community event was difficult, as the Art Club faced funding constraints, with only $26 in it's account. This was used to buy skin-safe paints. In the end, the Art Club painted 50 different face and hand Halloween characters and designs.
"We asked how we can use our talents to benefit the community in a way that's fun for kids, so we brainstormed and came up with the idea of face painting," Balakrishnan said. "I would definitely consider it a success. We had a pretty long line for the booth. I was actually super scared at first because I was looking at our face paint like "'Oh my gosh, it's kind of chunky' because we ordered it off some random website, and surprisingly all the kids and parents loved it. All the parents wanted to get pictures with us and the kids, [and] it was just a super sweet experience to be able to share our passion and talent with little kids."
There is no set standard for art in Art Club, as the officers allow participants to create art using their own preferred methods and mediums. Future projects for the club include working on the Senior Class of 2022 banner that will hang in the library.
"I teach mainly in acrylic, but my medium of normal choice is pen or line work with pencil," Balakrishnan said. "My style is pointillism, stippling and pen work now, but I really want to try oil next. As an officer, getting to walk around and see all of the other club members' art does inspire me in a sense that I'm like 'I never thought about this, I never thought about mixing these mediums,' and it's definitely helped my own perspective on art as a whole."
Gart has taken art courses throughout high school, including AP Photography last year and AP drawing this year, but said she still remains in awe at the talent of her peers in the club.
"It's just crazy," said Gart. "Everyone's so good and it makes me honestly feel underqualified sometimes, but I know I'm good. People show up [for Art Club meetings] and they just come and cut stuff out of magazines and make such good pieces. It's really inspiring."
The current direction of the club with the main goal of creating Art and a collective space as a creative outlet is successful in the eyes of junior Sarah Villarreal. Replicating this in the future will draw new members who wish to communicate interpersonal topics in a visual method.
"I think being in a community made up of other people that can enjoy art in a similar way even if it's small, is a bigger thing than just having someone to draw with," said Villarreal. "Art is putting different styles together and understanding no matter what it turns out looking like it's still art. And I think that can say things about people as well."