Our very own improve troupe, the Penguin National Guard, or PNG, performed for the first time Thur. Sep. 27 at 6:30. This year's PNG debuted to a full house in the Black Box theatre.
While several of the games performed were similar to years prior, there are several new cast members, including Caleb Spaw, Veronica Pardo and Ben Baldazo as well as sophomore Lynley Eilers.
Spaw, who has performed in several school plays and musicals including last year's "Wand," joined the cast for a new experience.
"I wanted to do something fun with my friends and make people laugh," Spaw said.
As for Baldazo, he was hoping to gain a new life skill when he signed up for PNG auditions.
"I auditioned partly for fun," Baldazo said. "And partly because I figured the ability to "wing it" is arguably one of the most important."
Baldazo is just happy he was selected to be on the cast.
"If for nothing else, I'm glad I got in because I get to see these guys at their best every week," Baldazo said.
The PNG newbies had plenty of chances to show their stuff last Thursday in a variety of games, such as junior Jeffrey Knobloch's favorite "Sound Effects", Spaw's favorite "Crime Scene" and other crowd pleasers like "Party Corks."
According to Spaw, Thursday night's show was a success.
"I think last night's show went very well," Spaw said. "We had consistent laughs, which is something we strive for."
PNG veteran junior Alena Oas, who sang about delicious belly button lint during her favorite game: "Musical Improv" knows how important a loud audience is.
"Even if the audience thinks what you said was funny, they won't always laugh," Oas said.  "It's kind of discouraging."
For some of us, improv could seem daunting, but Spaw wasn't nervous.
"I trusted the other people in the troupe to help me if I messed up," Spaw said.
Even though the cast makes it look effortless, improv shows take a lot of preparation. The cast gets together every Wednesday to sharpen their improve skills. Even so, performing still has its challenges according to Baldazo.
"The hardest part is staying in character," Baldazo said. "Whether it be keeping a straight face while you're being served coffee by an octopus or keeping yourself from switching accents or personalities."
As for Spaw, no matter how much you practice, you still have to be good at 'wingin' it'.'
"When you come into a show, you never know what characters you will be playing that night so you have to be prepared for anything," Spaw said.
Like Spaw, Baldazo is still getting used to improve performance while having fun.
"There's a lot to learn about laughing and winging it, but there isn't another crowd I'd rather be learning it from," Baldazo said.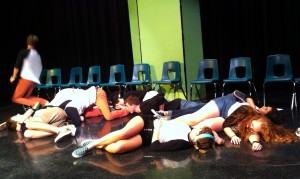 The next PNG performance will be at the Homecoming Dance on Oct. 8.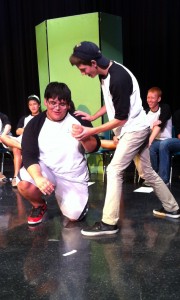 Story continues below advertisement