Roll With It
I-CE-NY shop opens at Lakeline Mall
When entering the food court of Lakeline Mall, one will now not only smell the fast food stands or the movie theater popcorn but they will also hear the clacking of metal against metal. 
After months of preparation, I-CE-NY Austin opened its doors on March 2 at Lakeline Mall next to Auntie Anne's and Lids on the upper level. The I-CE-NY franchise began in Thailand under the name "I-TIM-PAD" and was later introduced to the United States in New York where they opened a shop under the new name, "I-CE-NY."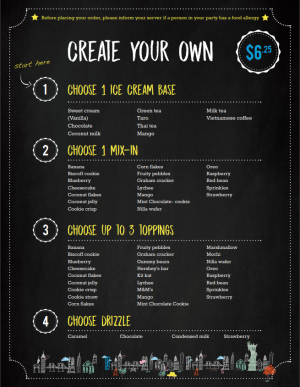 The shop specializes in rolled ice cream with unique flavors and twists. Ice cream ranges from signature flavors like Mango Sticky RI-CE, Strawberry Cheese-CE-cake, Matcha Mania, Fruity Pebbles and they even offer the option to create a flavor.
Owner of the Lakeline Mall I-CE-NY location, Alex, said that the opening was a challenge as they faced several problems while in the construction and demolition process.
"Delays and extra repairs pushed us further and further back," Alex said. "Rather than stressing over the problems, it was key for us to push forward and overcome all of the issues. We took a long time to get here, but we are here now and making the best of it."
During the opening weekend, an estimated 400 people showed up. Alex said that his favorite part of the opening was interacting with customers and listening to them say how they were expecting the opening and were excited to try the ice cream.
"Seeing their faces light up after their first bite reminds me that all of this hard work was worth it," Alex said.
The grand opening is expected to occur this Saturday. For more details, discounts and giveaways visit the I-CE-NY Instagram page.
More information about I-CE-NY:
-Ice cream roll cups are priced at $6.25.
-Vegan and dairy free options are available. 
-The ice cream is made in front of customers (see video below for the ice cream making process).