Rolling Like Cheese
Imagination Destination Team Places Seventh at State
Technical, Scientific, Engineering, Fine Arts, Improvisational, Service Learning and Early Learning. Seven project-based challenge categories open to students from pre-K to high school. This is Destination Imagination, a program that encourages students to explore innovation and creativity. For four freshmen, this has been a part of their life since elementary and middle school. 
The team, named "Madams of Mayhem," is made up of freshmen Mina Danesh, Cara Allen, Gabrielle Merrill and Erica Mihealsick, who competed in the Improvisational Challenge for both Regionals and State this season. On March 25, the team placed seventh at the State competition at University of Texas at Arlington and advanced to Globals.
"Overall, I think we had really high expectations for ourselves, and we did well, but I think we're all a little disappointed because we did better with our skit at Regionals than we did at State," Merrill said. "I think all our expectations were pretty high, since last year we went to Globals and did really well with no problems. The nature of improv is to do it differently every time, and we had fun with it, and I really enjoyed it even if we weren't fully happy with the outcome. I personally felt really honored to be competing against all these really cool teams from all around Texas."
At State, they competed against 18 other teams, and unlike previous years, this was their first time at State competing against high school teams. 
"It was intimidating, just because we are an all-freshman team competing against seniors who have most likely done this for years and years, more than we have," Danesh said. "While we weren't competing against university teams, it was really interesting to be able to watch university teams perform because university students are on a whole other level of DI in general, so I feel like it was really cool being able to see a different aspect of DI that I haven't seen before."
Before advancing to State, the team competed at Regionals on Feb. 19 at Cedar Ridge High School and placed first with an almost perfect score. They were one of four high school teams competing, and out of around 80 teams consisting of elementary schoolers, middle schoolers and high schoolers, they received the highest scores in each challenge category.
"We weren't really confident in ourselves, but we knew that our performance in our central [team] challenge went pretty well," Allen said. "When they announced third and then second place, we kind of knew at that point, and the intensity of everything grew until they got to announce our challenge. Then, the adrenaline just rushed in, and we were all super excited that we had gotten first place. We had a lot of hope for ourselves, [and] we learned to just play around with it and that it's okay to believe more in ourselves. It doesn't matter what place we made if we did the best we could."
For each performance, there are two challenges a team must complete: Team Challenge and Instant Challenge. The Team Challenge is worth 75% of the score, and the Instant Challenge is worth 25%.
"With the instant challenge, it's usually more material-based, and we never know what it is," Allen said. "That's why it's really exciting and why we do better in it, because no matter what, each team has to do the instant challenge, and it's the same everywhere, so it's very exciting to see how we compare to other teams. I think we have a slight advantage in it because we do improv, and an instant challenge is just a material improv."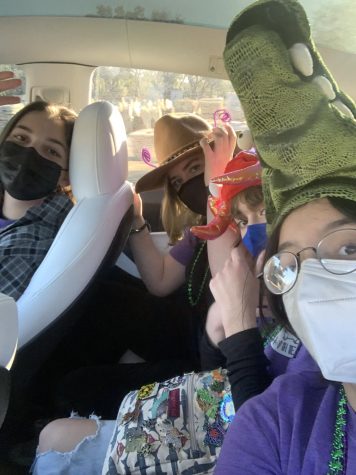 This year, the competition's theme was to research festivals around the world. In addition, the skit must include a set of 10 boxes which can be used to create props, as well include a "fork in the road" situation for a character to achieve a goal during the performance. 
"I really loved this year's theme because we got to research and learn about different cultures and traditions from all around the world," Merrill said. "It was definitely a bit different than I was used to because this challenge didn't allow quite as much preparation as some past ones. I'd say this year has been my favorite improv challenge, but my favorite challenge overall had to have been the Fine Arts challenge our team competed in last year."
The teams were given 10 festivals to research, one of which is drawn randomly the day of the competition and must be performed in the skit. One festival is the annual Cooper's Hill Cheese-Rolling and Wake in Cooper's Hill, near Gloucester in England, which is held on the Spring Bank Holiday. Participants roll a round of Double Gloucester cheese down a 200-yard hill at a 45 degree angle.
"For the cheese rolling, specifically in skits we like doing an up close ramp and a distance ramp to show the cheese rolling down the hill," Danesh said. "We find it funny how [this festival] has been going on for so long, but also how it's technically an unofficial event due to how dangerous it is. We also learned about well-known people who compete in it, for example, Flo Early is the women's fourth time cheese winner. We all became obsessed with rapidly rolling cheese. We once did a skit where the cheese actually came from aliens and the cheese that rolled down the hill was [actually] cheese."
Another festival the teams were given is the Buenos Aires Tango festival held in Argentina, where people participate in the World tango dance tournament, or the "Mundial de Tango" in Spanish. 
"Mina and I practice a tango dance if [the skit] involves a tango competition, and [if] our goal is to pet a unicorn, [we] tango to the unicorn or something like that," Mihealsick said. "A popular food at the Tango festival is empanadas, and empanadas are probably my favorite part of the festival. We had a day where we tried all the foods from the festivals to help us remember [them] during practice, and I could not stop eating the empanadas. When we practiced [acting at] the Tango festival, we would usually try to have the setting be a Tango competition so that at some point we could show off the tango to the judges to help [us] earn extra points."
Also, the judges look for creativity from start to finish, including the use of storytelling throughout the performance. 
"Something we do as a team for both team bonding and something to signal to our judges that we are ready is to start our Genome [pronounced Je-Gnome] chant," Danesh said. "For the past month we have been finding tones that we can all hit and we [made] a 'Genome' song. It's different every time. Genome is just a weird way of saying knome, because we need creativity points. It's also just more fun than just saying things how they are. Why say 'ready' when you can scream demonic Genome chants?"
Last year, the team competed virtually at Globals in two competitions. They placed third for the Fine Arts competition and sixth for the Improvisational competition. For the Fine Arts competition, they created a music video about the Greek story of Pandora's Box, which included their own music. 
"Globals was really fun and stressful [since] we entered two challenges plus the mandatory instant challenge," Mihealsick said. "The deadlines would often overlap, so we were really busy, but it gave me something to do during lockdown. Sometimes, we would meet for hours each day, and it kind of became my life because it was the only social interaction I had other than online school. It was definitely interesting to try the Fine Arts challenge for the first time. It was really fun because we would just go out and film. I really loved it because it was the first time I created a costume and played a character, and apparently we were really good at it because we got third place. 
For practice, the team meets every Sunday night at Allen's house and increases their practice leading up to competition. Sometimes they meet on Wednesdays, Thursdays or when everyone is available.
"[For practice], we do what the challenge details, [and] we have prepared goals and forks for us to use and randomize the festival [choices] in order for us to practice each one without knowing what we're going to get," Allen said. "Then, we talk about what went well and what we need to work on and then we do another one. It helps a lot to prepare and figure out what works well for us so we can continue doing that. It also helps us know what we're doing and know the rules better before our performance."
Outside of DI, the team hangs out during school, plays Dungeons & Dragons and hosts game nights or holiday parties where they dress up or cosplay. 
"I really enjoy just goofing off with these people because we are all really good friends and everything," Allen said. "We just have time in between to just have fun and play around. [Being friends] makes it much easier to communicate with each other about what we need and be honest on our performances to help us improve. For the most part, we all grew closer through working on DI, and now we get together and do crafts or [play] Dungeons & Dragons or other creative things for fun. We just spend a lot of time [together] and come up with fun ideas we all find really fun, and then we go do that."
According to Danesh, the team bond is what makes Destination Imagination so fun.
"The best way I can describe [our team] in a literal sentence is if you add chaos with impulsivity with impulse shopping," Danesh said. "We all come together and plan [for competitions] like two days beforehand, and we all go somewhere and waste all our money doing fun stuff or buying cool things together. I think that's the best part."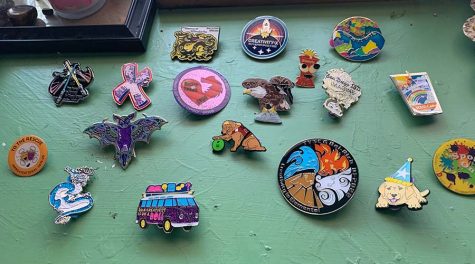 Another aspect of Destination Imagination is the pins. For Danesh, it is her favorite part of the competition. The team usually trades with other groups at the competition and even has pins from a New York team. 
"At each [competition] we can get different pins," Danesh said. "Specifically for Regionals, we tend to get pins that are specific to our area, and there are different pins every year for each theme of the entire competition. Not every challenge fits into the same theme together, so there's an overall theme for each year. We get different pins at each meet, and we can trade them and then get some really old pins or some really cool pins. Pins are great."
Additionally, at the DI awards ceremony, students are allowed to wear funky hats, such as an alligator hat with reindeer antlers, a sparkly crab hat, an Einstein wig or a cowboy alien hat.
"The hats are part of every DI competition for the award ceremony, and it's a fun way to get creative," Mihealsick said. "It is so fun to wear a crazy hat when going on stage to collect an award. For our Regional competition, I wore a shiny crab hat, and for our State competition, I wore a cowboy hat enhanced with straws and glow sticks. It's honestly my favorite part because the hats we wear and that others wear create a really fun atmosphere whether you win or lose."
Destination Imagination is also available for university students, who can compete in the Challenge Experience, where a team must develop a solution and present it live.  
"I heard that they have DI available in college, so that would be really cool to do if I could find a way to do it," Merrill said. "I personally would love to. I want to experience what [DI] is like at a higher level and see how I, personally, can grow creatively and artistically within DI. I plan to continue DI throughout the rest of highschool, hopefully with my current team, and I hope to be able to go to Globals in person at some point, because it would be such a cool thing to be able to experience. I know my team also feels the same way, and we all love DI and like watching ourselves grow individually and as a team."
If students are interested in joining DI, they can contact QUEST English and AP Psychology teacher Nancy Steele and fill out a form to join.
"Destination Imagination is a creative group meant for people who like to do creative things," Danesh said. "I fully intend on doing this throughout my entire high school career. I really like the aspect that there aren't necessarily logical boundaries to [improv], and I think that's pretty cool. I think we all really truly enjoy doing this with people we are super close to and doing activities we love to do and things that genuinely interest us."