Santa's Little Helpers
Local Police Department Hosts Fundraiser For Toys For Kids
From fighting crime to saving the jolliest day of the year, Operation Blue Santa is an organization started by local police departments to help children in need receive gifts and even a nice holiday meal on or around Christmas. There are a number of ways people outside the police force can help, either by donating toys or Christmas gifts for kids, donating money through a GoFundMe, or a secure PayPal. These donated gifts go to the Austin Police Department (APD) rather than the Cedar Park Police Department (CPPD), but monetary donations are also accepted at the CPPD, as well as a surplus amount of and volunteering needed to help organize or distribute the toys. 
The Cedar Park PALs program is partnering with CPPD to help provide children in need with toys this year. Children in the surrounding areas of Austin will be directly impacted through any donations made through PALs or even some student who decides to pitch in.
"Any student, adult, or business in the community can contribute toys or funds to this great cause," PALs teacher Jared Lippe said. "I love the fact that all contributions directly impact our neighbors right here in the Cedar Park area."
PALs is a program open to juniors and seniors that is a mentor program that aims to help students and or give back through community service. The term PALs is an acronym for Peer Assistance Leadership and Service, PALs volunteers give service back to the community through donations.
"For me, Blue Santa means a family who may not have been able to celebrate Christmas this year will get the opportunity to enjoy Christmas morning and know that their kids will be able to celebrate and receive gifts or a Christmas meal like many other families," senior Bella Fernandez said.
The Cedar Park Police department on request will help families in need and will also connect through city workers to help to ensure everyone has toys for their children or necessary money to help. Money can be given out to struggling families through gift cards, so they can spend it on whatever they feel would make their Christmas celebration better.
"Blue Santa is an initiative by the [Cedar Park] Police Department in an attempt to provide assistance during Christmas for families who are underprivileged or lack the resources, for what that deem to be a good Holiday for their family," Student Resource Officer Mike Ott. "Our attempt is to give back to the community through our resources to get donations and give back to the community."
On the Blue Santa website, it states that over 500+ donors donated last year, and this year we have the same number of 500 plus. The website has its donors listed and has donors that range from small local businesses to large corporations such as Walmart. The only contributors that are listed are ones above one thousand dollars, but donations of any denomination are accepted.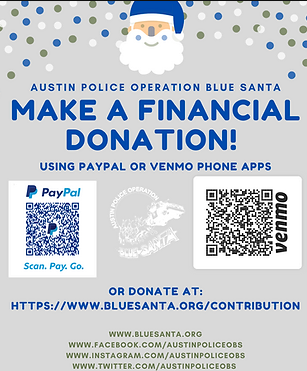 "In past years I have donated money towards Blue Santa, it makes me happy to know that people in our community no matter their current situation will be able to celebrate Christmas and have gifts under their tree for their kids," Fernandez said. "This brightens their kids days, but also brightens the parents' days seeing how excited their kids are that Santa dropped off gifts." 
The toy drive at Cedar Park High and the Cedar Park Police Department only go to cedar park residents, although many other police departments have Blue Santa toy drives. Travis County's version of the Blue Santa is Brown Santa as their uniforms are brown instead of the blue uniforms CPPD has.
"I really like the program, I like knowing that the police department provides multiple different assistances to the community of Cedar Park through different avenues," Officer Ott said. "I love helping the kids because I think they're the future and it's good for them to have good interactions with law enforcement and what better way for that to happen than with toys."
Blue Santa was started for children whose parents couldn't afford gifts and toys for their children, so local police would help out their community and with the COVID-19 pandemic, millions of people lost their jobs. This means that many local families will be without money to provide Christmas gifts for their children and the need is greater this year than in years prior.
"There are a lot of families going through hard times, especially through these crazy Covid days right now," Lippe said. "It's so encouraging to see people come together to support others and help provide a happy holiday season for families in need."