Supporting the Troops
Rain Holds Off for Annual Veterans Day Ceremony
After days of planning, preparation and reports of potentially bad weather, Rho Kappa held the annual Veterans Day ceremony Friday to commemorate the federal holiday honoring the service of military veterans.
Planning began within Rho Kappa after their Halloween event, Trunk or Treat, wrapped up and required coordination between multiple groups, including the band, varsity treble choir and social studies department. Rho Kappa's sponsor, AP Government teacher Jennifer Fortenberry, and the officers of the club wrote the ceremonies speech and divvied up speaking roles. They were also responsible for contacting all of the involved parties.
"Our Veterans Day Ceremony here at CPHS, it's kind of an understanding that we're going to have one every year," senior and president of Rho Kappa Ariana Balakrishnan said. "Every participant – choir, band – they all know they're going to do it, but it's up to Rho Kappa to get that ball rolling every year."
After the entire student and faculty body gathered silently in the courtyard, there was a performance by the varsity treble choir of "The Star-Spangled Banner." Fortenberry and Rho Kappa officers then made opening remarks affirming the importance of the sacrifice veterans make to protect the country and talking about the history of Veterans Day, back to its origins in the aftermath of World War I, where it was originally called Armistice Day. According to Balakrishnan, the importance of holding the Veterans Day ceremony is not lost on her.
"It's a big honor, and I'm happy that this kind of responsibility is given to Rho Kappa, and all of our members definitely appreciate that," Balakrishnan said. "I'm glad that we had the opportunity to share this with the school, and I'm really glad that Rho Kappa gets this opportunity to share what we stand for."
There are two ways the school ties Veterans Day back to the student and faculty body. Firstly, it is after these opening remarks that school nurse Tara Jo Frost announces the names of veterans who are in some way connected to the school, whether they are current or former staff or students or are relatives of staff. Frost was herself a lieutenant nurse who trained corpsmen in the Navy, and her father, also a veteran with 20 years in the Marine Corps, was a spectator at Friday's ceremony.
"[Our father] kind of raised us [to know] the reverence of taking care of our community and our land and protecting where we live," Frost said. "I always felt like the reason why I went into Navy nursing is because the Navy takes care of the Marines, and the Marines are usually the first people to go into a war, and I just wanted to be there for those individuals that went to try and protect our land and our freedom. I think that we don't have the ability to see the people that have fought for their countries and know their stories, and [the ceremony] gives a chance for a younger population to see the importance, and see the reverence for why we do certain things we do for our government."
Outside of the ceremony, Rho Kappa also organizes two committees to handle the Veterans Day star display, located at the entrance of the front office. After yellow paper stars are cut out by members of Rho Kappa, they are distributed to social studies classrooms, where they are then passed to students who can commemorate members of their families who are veterans by writing the family member's name on the star and where they served. The stars were then dropped off at Fortenberry's room before they were pasted on the glass wall in the front office's entrance. This is what sophomore Audrey Opland used to honor her grandfather, a veteran who served in the Vietnam War.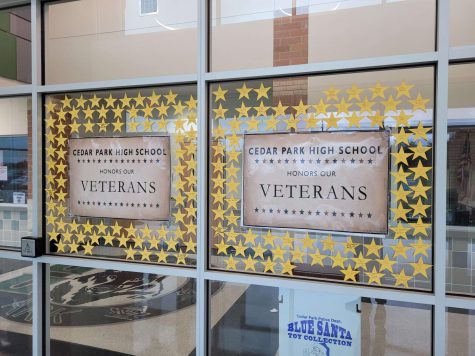 "I just think it's really important to honor those who served our country," Opland said. "[The importance to me] was knowing that he had a part in helping people."
After Frost's comments, the varsity treble choir performed a song called "Inscription of Hope" by Z. Randall Stroop, a song whose lyrics were found scratched on a wall in the Nazi concentration camp Auschwitz after American soldiers reached it. The song talks about believing that things will get better in difficult times. The varsity treble choir has performed this song multiple times since the start of school, including for a concert.
"It's been nice to be able to continue to work on it, because every time it starts to get a little more meaningful to the students the more they understand the piece," choir director Lisa Holt said. "Music [added] an extra element to the ceremony. It's nice to be able to perform for the student body and to present to the veterans that attended as well our appreciation. I really liked the music we selected this year for that."
The last feature of the ceremony was the performance of "Taps" by sophomore trumpet player Harrison Whitfield and freshman trumpet player Stephanie Manoel, with Harrison playing the main melody and Manoel echoing in the background at the end of certain notes. "Taps" was originally a "lights-out" signal for soldiers at the end of their day, but is also played to express appreciation for the military.
"My band director, Chris Yee, offered my friend, Stephanie Manoel, and I a chance to play 'Taps' together, and we both accepted," Whitfield said. "For me, personally, 'Taps' makes me think of all my family that was previously in the military, and how fortunate I am to still be able to see them and speak with them, as many are not as lucky."
On Thursday, there were reports that there would be up to an 80% chance of rain during the Friday ceremony, even persuading the leadership of Rho Kappa to instead record a virtual Veterans Day ceremony with the broadcast program. However, the weather was clear enough to let the ceremony happen. Still, Balakrishnan said she views it as a sign of the Veterans Day ceremonies importance.
"I feel like that just shows how important this is that rain or shine, this Veterans Day ceremony had to go on," Balakrishnan said. "There's just so many who have sacrificed for this country and I feel like as American citizens, it's our role to play part to them."