Teacher Feature
Educators Share Motivation, Joys Of Profession
There is no question about the importance of teachers in a school. Without them, the school could never run in the first place. They help improve skills in math, English, science and many other things in hopes of preparing us for a bright future, but there is a lot more to them that students don't see or don't even think to ask about. It's hard sometimes not to wonder how they got into teaching and why they do it.
Earth Space Science and Environmental Systems teacher, Amy Durden, said that her favorite thing is helping teenagers learn and reaching what she calls an "Aha moment," when they finally understand and become excited about an important concept.
"I want to encourage teenagers to prepare for their future through hard work, dedication, determination and a sense of curiosity and thirst for knowledge," Durden said
Spanish teacher and volleyball coach Rebecca Zabel-Brewer had another point of view which adhered more to what she enjoys about her daily life as a teacher.
"I get to be in the company of some really incredible colleagues," Brewer said. "There is no profession more educated than teachers and it's fun to be in the presence of so many smart and compassionate people."
Teachers were not only students but teenagers once as well. Like her students, she teaches, English lV teacher Kristin Burke, went through trials and tribulations to get to where she is today and many of her experiences allow her to become a better teacher.
"Although I was always a bright student who loved learning, I often felt alone and disconnected," Burke said. "I made some poor choices, and sometimes my behaviors were attention-seeking. Through the course of my education, I had a few teachers who reached out to show me that my contributions were necessary and meaningful and that I mattered. I want all students to know that they are valued. I want to support their passions and let them know their voices are heard."
"
Through the course of my education, I had a few teachers who reached out to show me that my contributions were necessary and meaningful and that I mattered. I want all students to know that they are valued.""
— Kristin Burke
Uniquely, AP US History teacher, Josh Marsh, had an even more in depth knowledge about how to teach and treat your students after growing up with parents who were teachers as well.
"My parents were also teachers and gave me some great advice as to what to do and what not to do as an educator," Marsh said. " I also try to always remember that my class isn't the only class kids have to deal with, along with extracurriculars, so I make sure to treat them fairly and have some leniency."
Marsh didn't always intend on teaching. With a love for Disney and a background of working for Disney World that was the path that he initially planned on.
"Although I went to college to become a teacher, there was a time I thought of not teaching," Marsh said. "If I didn't become a teacher, I wanted to work at Walt Disney World. Luckily I realized very early on after college that in order to pay my bills, teaching was probably the best route to take."
English teacher Michelle Iskra took a little longer to land on teaching, after trying out a few other careers first. In the end, she landed on teaching her favorite subject as a way to both enjoy her passion and help others at the same time.
"I had a full scholarship to study theatre out of high school," Iskra said. "Once I began acting professionally I saw that I didn't need a degree in theatre and changed my major to accounting so [that] I could work for myself. It wasn't until I became an accountant and realized it wasn't for me that I asked myself what I really wanted to do. I love literature and writing; becoming a teacher was the best way to help students develop confidence in those areas, which is what I needed when I was in high school. I earned a Master's degree in English Literature and a teaching certificate and got to work."
Brewer, whose original goal was to become a professional athlete, wants her students to understand that it's okay to slow down, think, and enjoy life where they are before jumping into the next phase of life.
"If I could go back in time and tell my young self two things, number one I would say: it's all going to be okay," Brewer said. "And two, I would say: don't be in a rush to move to the next step because it goes fast, time is relative, [and] the older you get, the faster it goes."
About the Contributor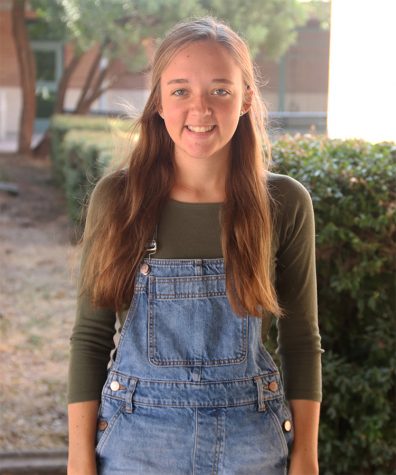 Kaley Johnson, Reporter
Kaley is a senior and this is her second year as a reporter on The Wolfpack staff. She is also a part of the varsity tennis team. She enjoys writing opinion pieces as well as the concerns and interests of the students. She plans to study English or creative writing at UNT or LSU with a minor in either psychology or theater. In her free time, she enjoys stories in any way including watching, reading and writing. She also enjoys music, fashion, food and coffee.