They've Got Spirit, How 'Bout You?
Tips for Getting Involved at CPHS
Metal Shop. The T-Wolf Rumble. Pinkies intertwined as the crowd sings "Forever Cedar Park High." 
These traditions are what hold together the student body during Friday Night Lights. They unite 250 band students marching on the field, the 27 cheerleaders standing in the sidelines and the 42 celebrities dancing to "Hooray for Hollywood." Countless organizations go into what makes Friday nights the best they can be.
"Cheering on the sidelines is a good way to get involved with the school, and also make sure our students get involved, too, to make our school seem very close-knit," senior cheer captain Rylee Elam said.
While cheer can rely on students to bring their spirit during wins, Elam said that it's harder for cheer to keep up their positive attitude throughout losses. 
"It's definitely very difficult because we're all very emotionally involved in the game," Elam said. "We just know that when other people are cheering for [the team], [they] automatically play better and feel better, so we try to support the football team in that way and try to get the students to do the same."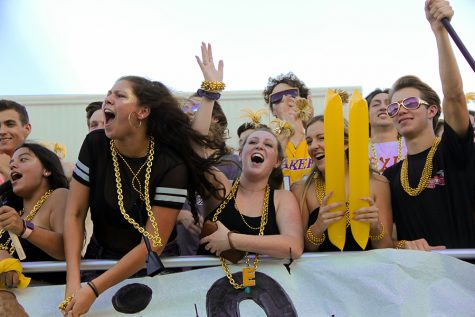 In addition to the cheer team pumping up the student section, seniors Kole Krieg, Karson Cater and Alessandro Mauries are this year's student section leaders. 
For updates on games and spirit wear, follow their twitter: Follow @cpfbstudent2019
Student section member, senior Kaitlyn Orr, can be seen every Friday cheering for the Timberwolves. But for her, Orr said that school spirit is much more than just showing up. 
"School spirit isn't just cheering at football games," Orr said. "But a truly amazing support system that inspires all the students here to be the best they can be." 
---
How to Get Involved
For students who want to get involved, both Elam and Orr's advice is to put yourself out there.
Step 1: Attend Home Games at Gupton
Show up around 6:00 p.m. to get a good seat

Find a spot: 

Don't be limited to football. Find other sports and attend their games, too!

Don't be afraid to cheer

Stay standing throughout games, sitting is only allowed during halftime

Look at the student section leaders and the senior section for guidance during chants, because most cheers are only repeated three times
Step 2: Learn the Classic CP Cheers 
"
Everyone deserves to be recognized for the accomplishments they make, and school spirit allows [us] to do that even if it's just in small ways,"
— Kaitlyn Orr
T-Wolf Rumble, Metal Shop, and Where Ya From? are performed every game, so be sure to know the words:
Where Ya From?
"Where ya from?"
-Cedar Park!
"Where ya from?"
-Cedar Park!
"Do you love it?"
-Oh yeah!
"Do you love it?"
-Oh yeah!
"Gimme one!"
-Uh!
"Two!"
-Uh-uh!
Everyone-"Oh-oh!"
Step 3: Join Clubs and Participate in Activities
Going to club fairs, open houses and events like Trunk or Treat can help students get familiar with the many clubs offered

Talk to teachers and see what clubs they recommend

Click here to find the various clubs and organizations offered to students
Orr said that apart from meeting new people and gaining experiences, joining clubs is the perfect way to get immersed in school spirit.
"We may all just be teenagers, but there's a multitude of amazing things accomplished in the many diverse organizations here," Orr said. "Everyone deserves to be recognized for the accomplishments they make, and school spirit allows [us] to do that even if it's just in small ways."
These are just some of the ways to get involved. By following these steps, underclassmen and new students can find ways to maximize their school spirit. 
Leave a Comment
About the Contributors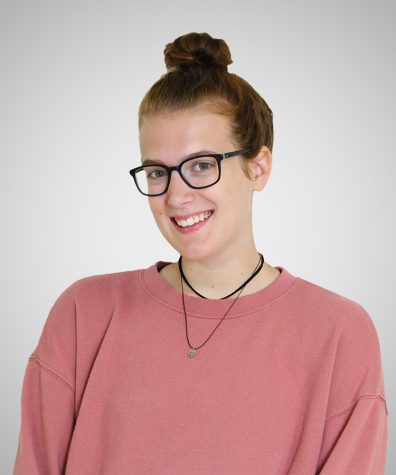 Callie Copeland, Reporter
Callie is a senior here at Cedar Park High School and this is her first year on staff. She's involved in multiple honor societies, including being the President of NEHS, she plays on the varsity basketball team, and she is the President of Ping Pong Club! She enjoys writing human interest stories and keeping people updated with the goings-ons of the school. In her free time, she watches countless hours of The Office and plays with her two miniature poodles. She plans on going to college but is currently undecided on what she will major in and what she will do with her life.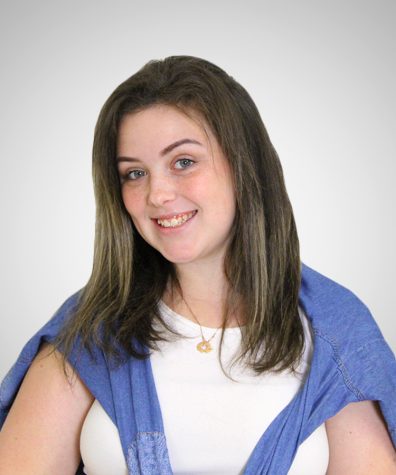 Jordan Deyo, Multimedia Manager
Jordan Deyo is a senior that has been in the journalism department for her entire high school career. She currently is the Multimedia Manager of The Wolfpack, and a staff member of the Tracks Yearbook. Jordan loves her eight animals! She has four cats, two dogs, a lovely hedgehog and a chinchilla. Jordan is going into the Air Force after high school to pursue her dream of working in law enforcement, just like many others in her family.