Two Sides of the Hemisphere
Choir, Celebs Spend Spring Break at Opposite Ends of Country
Waking up early in the morning, packing jackets, sweatpants, lots of thick shirts, money. Packing bikinis, shorts, sunglasses, hats. This year, the Celebrities went to Hawaii for their dance trip, whereas choir went to the opposite side of the country and went to New York.
Choir left for their trip to New York early in the morning on Mar. 10. They saw three different Broadway shows,  the Rockefeller Center and Statue of Liberty, and went shopping on 5th Avenue and Chinatown. 
"We first went to Chinatown and went to souvenir shops where you could negotiate prices," junior Audrey Johnson said. "Then we went to 5th street which was like designer stores, and then we went to Macy's where they did the Thanksgiving parade."
According to senior Colin Kennedy, his favorite part of the trip was the Broadway shows because New York is the only place in the US where you can experience live theater on such a huge scale.
"It's no exaggeration to say that those shows are performed by some of the most talented singers and actors in the world," Kennedy said.
Rios said she has been a fan of Broadway since middle school and aspires to pursue musical theater in the future. Her favorite part of the trip was seeing "Moulin Rouge", "Haiti's Town" and "Wicked."
"
I love seeing shows in person because it feels more personal and emotional. In the recordings, everything has to be perfect. Like the perfect take, hit the high note and hold it, so it's a little less emotional, but if you see it live, you can hear what other people would consider faults, like more heavy breathing, maybe they crack on a note, and normally you would think that's not great, but that adds to the character, and it adds to the experience and emotions that they are trying to portray, and I really really like that. I feel like that adds to the story like tenfold."
— Eric Skinner
According to Rios, "Haiti's Town," a retelling of Orpheus and Eurydice, was her favorite show because of the unorthodox ending, and the emotions the actors portrayed made Rios feel more connected to it.
"It was the only show that I truly knew before I went in to watch the shows," Rios said. "I had never heard much about 'Wicked' and I had never heard of 'Moulin Rouge.' Even though I know the story, it was exciting to see the story unfold in action." 
According to senior Colin Kennedy, the authenticity and realness of the Metropolitan Museum of Art gave him a reason to visit the museum. Kennedy went to an exhibit called Arms and Armor which showcased European Medieval weaponry.
"New York has lots of rich history and culture that you can't find as much of in Austin," Kennedy said. "New York holds more historical significance and a lot more things to see, which made the trip a whole lot more interesting." 
Touring Central Park is something that Rios and Kennedy said they both really wanted to go to. Even though it was 30 degrees outside, that didn't stop them from wanting to go there. 
"It's an old and modern city," Kennedy said. "There are crazy skyscrapers and architects, and then there is a stone cathedral on the same block."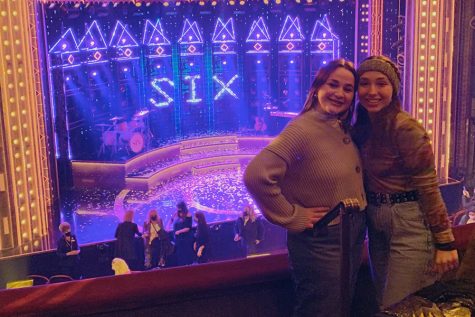 Junior Patrick Riordan said he liked how the whole trip was not structured because he had the freedom to do what he wanted to do. One special thing that Riordan brought along with him was haggling, which is one of his family's traditions that they do whenever they go to New York. 
"We find street vendors selling big watches because they are really easy to buy, especially in Times Square, and we see how cheap we can get a fake watch," Riordan said. "We do it not really for the watch but for the experience." 
Amongst the shows that Riordan saw, he said he liked Haiti's town the most because of its steampunk setup with a Greek mythology set in industrial America. 
"When you see a show live, the music is more immersive," Riordan said. "This is a real experience I am having with the actors instead of just watching them." 
While choir was in New York, the Celebs flew to Hawaii this year. Every four years, the Celebs go on a trip during spring break, but because of COVID they couldn't go last year, so they went this year instead. Normally they don't compete during their trips, but this year the officers competed in three routines against people in the district and Dallas and they won. The competition was called the Lone Star State Championship and the officers who competed were Captain Katie Kim, 1st Lieutenant Lindsey Lopez, Senior lieutenant Ava Caldwell and Lexi Haul, and Junior lieutenants Sandra Ziegler and Kylie Curnutt.
They placed first in the category of officer line and competed in three different dances. According to junior Sandra Ziegler, her teammates were confident in themselves and their dances even though they learned one at the last minute. 
"It felt really rewarding to place because we worked super hard on our three routines," Ziegler said. "We did a Kick, a jazz, and a contemporary."
The Celebs' main purpose for going to Hawaii was to perform at Pearl Harbor. The dance was ten minutes long and they performed a mashup of Hawaii Five-O, God Blessed Texas, and Yankee Doodle. According to junior Sandra Ziegler, each song represented either Hawaii, Texas or America. 
"We got to perform right in front of the USS Missouri and it was very cool to perform in front of such an honorable part of American history," Ziegler said. 
The Celebs performed on a pier facing the USS Missouri and according to junior Brady Vacek, it was really cool being able to see the ship itself after they performed, because they were able to tour inside of the ship. 
"That was so fascinating to me because I like being able to see history and being able to be in what happened was so neat," Vacek said. 
The relationships that form between teammates throughout the years and the closeness that come with that is what Ziegler said makes her feel like she has a whole bunch of sisters. 
"We have our hard times but at the end of the day, we know we will always be there for each other and it's just super rewarding getting to perform and all of the hard work and practice we have put into everything," Ziegler said.