Wolves For Wishes
New Club Supports LISD Students With Chronic Illnesses, Fundraises Money for Make a Wish
Wearing Timberwolf green shirts with a dazzling "Wolves for Wishes" script and globe depicted across the chest, volleyball girls and supporters of the Make A Wish Foundation sit together at the volleyball game, hosting their bake sale. The girls are surrounded by cake, chocolate chip cookies, brownies and banana bread. The leader, a former Wish kid, smiles as she sells another slice of cake. When the game concluded on Oct. 19, the club had raised a total of $1,750 for the Make A Wish Foundation. 
Wolves for Wishes, a club founded by childhood cancer survivor and senior Ana-Kate Partridge, was created in order to provide students with chronic illnesses support and raise money for the Make A Wish Foundation. 
The club held their first meeting on Oct. 22, and introduced what service activities and fundraisers will be held to help raise money for the Make A Wish Foundation and Dell Children's Hospital. The club's first fundraiser was held at the volleyball game on Oct. 19, where members sold baked goods for the third year in a row. 
"I was very excited when the volleyball team reached out to my family asking if they could donate to me because I was a cancer student," Partridge said. "When I told them about Wolves For Wishes, they got excited and so did I. I was shocked at how much money they raised from the bake sale. Just knowing that we raised that much money and that [the team] was willing to do this made me really excited, and I was so grateful that all these people [donated]. It just made me so happy that there are people out there that want to support."
Another opportunity the club is organizing is writing letters to Santa for Macy's Believe, which is part of a fundraiser for Make A Wish where Macy's donates two dollars for each letter written. Macy's will donate up to $2 million to children in the country. 
"We are looking forward to holiday events at our local elementary schools where we can set up a table and promote this cause and raise funds together," sponsor and PALs teacher Jared Lippe said. "In the spring, we hope to find an LISD student to support individually, as well as events at Dell Children's Hospital and the Make A Wish Foundation's [Anniversary] Gala, where in the past, our president Ana-Kate has even been honored and asked to give a speech."
 On Dec. 4, Deer Creek Elementary School is holding their annual Winter Wonderland and breakfast with Santa. Wolves for Wishes will be setting up a booth to help out and will include writing letters to Santa. 
"Our booth is going to be writing, and our table is going to have paper, fun markers and stickers," Partridge said. "We will let the kids write their letters and help them out with spelling, and then we will gather them up and give them to Macy's."
Partridge went to school at Deer Creek, and said her time there was memorable. She also visits her two PALees at the school once a week.  
"I do remember when I was little when I went to Deer Creek, my counselor would always pull me out [of class] and we would always do an activity in her office," Partridge said. "Back then, there was a newspaper that went out that was all about me, and we cut it up and made a poster. I still have it at home. I feel really excited because I have already been going back to the school because I have two kids over there for PALs. It's so much fun. When we emailed the lady [at Deer Creek] and asked them [if we could come help out], they were so excited that I was going to come back over."
"
I'm humbled that Ana-Kate started W4W because it truly shows her heart and how passionate she is about giving back to an organization that has impacted her life so greatly.
— Alexis Partridge
Partridge, a childhood cancer survivor, was diagnosed with medulloblastoma, or a brain tumor, at six months old and then again at two years old. After her rediagnosis, her family decided to pursue proton radiation therapy at MD Anderson Proton Therapy Center in Houston. Partridge was the center's first pediatric patient in Texas. Partridge underwent an eight-week treatment and continued chemotherapy back home in Austin. Next summer, Partridge will hit her 15-year anniversary of being cancer-free.
"At that time, my parents didn't know what to do, and all these doctors were trying to figure out what to do," Partridge said. "They [recommended] the proton therapy center in Houston that had just opened up. So I went through that, and I was the first kid in the state of Texas [to do it]. I feel kind of special about that, and a lot of people [might] not [really know] what the proton center is, [because] back then there were no other kids, just me and other older people. I'm a little scared and nervous [about my upcoming anniversary], because I haven't had [my cancer] come back in a while, but I'm thinking about getting an MRI just to be sure everything is okay. My mom and I have been talking about getting some friends together and going on a trip [to celebrate]."
Partridge, who was a part of the Make A Wish Foundation, was granted her wish in 2008 when she and her family traveled to Disney World. As a former Wish kid, Partridge fundraises for Make A Wish and has participated in Austin's Over the Edge "Rappel for Wishes" by rappelling from one of the tallest buildings downtown.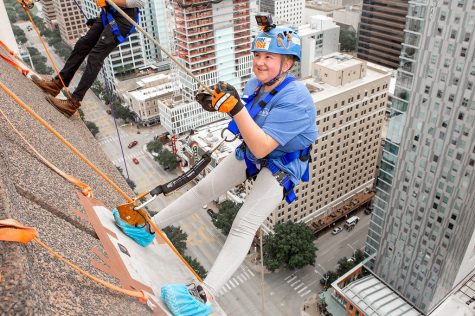 "It's hard to remember the day that I was granted my wish," Partridge said. "I mean, I was three and a half years old. I chose to go to Disney World, and I do remember meeting all the princesses along with Mickey and Minnie. The best part was eating in the castle. We went through [the nonprofit resort], Give Kids The World, and I got to stay there and eat all the ice cream I wanted, which was my favorite. The thing that I like about it is that when you go to Disney World and visit Give Kids The World and tell them you're a former kid, they let you come in and offer you dinner and [a] tour. At Over The Edge, I was the youngest person repelling there, so they had another person go down with me. When I actually went over the edge, I got mental and broke down because it scared me. But after that, I had so much fun and I did it again.This right here is the reason I want to give back. I have been involved with Make A Wish for three years now as a spokesperson for them and raising money. I now want to give back by raising money to grant a wish for our own LISD students."
Both Partridge's sisters, who are Cedar Park Alums, are involved with Make A Wish, either working for or assisting the organization. Her older sister, Alexis Partridge, works for the national Make A Wish office as an accounts receivable specialist on the shared financial services team, and her other sister, Lauren Partridge, has interned at Make A Wish for the past two summers. 
"I decided to work for Make A Wish because I absolutely love the mission and wanted to work for a non-profit," Alexis Partridge said. "It brings me so much joy that I am able to work for an organization that is so dedicated to giving families hope during a critical time like they did for our family. I'm humbled that Ana-Kate started W4W because it truly shows her heart and how passionate she is about giving back to an organization that has impacted her life so greatly."
As the semester wraps up, Wolves for Wishes will be electing officer positions. There will be two vice presidents, a secretary and treasurer in addition to the social media managers, seniors Carlton Marcom and Natalie Cohen. The club's Instagram is @wolves_for_wishes, and the team is working on a website to provide information and a place to donate to the cause in the near future.
"I think it's important to raise money and serve for an organization who gives back to people who pour into it," Marcom said. "I know that Make A Wish has made so many miracles and dreams come true for so many pediatric patients, and giving back to people who need it most is so rewarding. Even just being a friend to these kids and giving kids with chronic illnesses hope and joy from day to day is what this club is all about."
Right now, Wolves for Wishes hosts meetings twice a month. Moving forward, meetings will be held the first Thursdays of every month during DEN in Lippe's room (Room 1010). Their next meeting date is tomorrow, Dec. 2 during DEN.
"I have met plenty of people in my life suffering from chronic illness, and I'm constantly inspired by the positive attitudes and hope that these amazing people maintain as they continue to hurdle challenges and live one day at a time," Lippe said. "It can be so heavy for families to deal with, but the caregivers, support teams and organizations like Make A Wish Foundation bring loads of positive energy and support as they walk alongside and help as best they can. That is something that I'm honored to be a part of."