6 Fall Fashion Essentials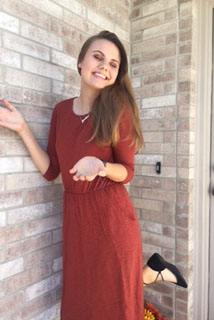 Even though Texas doesn't exactly have a "true fall season," it can be fun to dress the part in thick layered sweaters and jewel tones. Be fully fall prepared with these essentials that should be on every girl's radar.
Berry/Mauve Lipstick
On the "fall" days that are especially hot, sometimes makeup is the best way to display your autumn spirit. Darker lip butters from Sephora or Target will shake up your regular beauty routine, while moisturizing your lips.
Flannels
Channel your inner lumberjack with a soft button down. Flannels come in many patterns and colors that are sure to suit your personal style. They're also fashionable tied around your waist for a cohesive look.
Military Jacket
Though these jackets will never see real combat, they will be certain to fight the chilly winds of early mornings. Army green jackets are easy to throw on when you're in a rush to head out the door.
Riding Boots/ Ankle Booties
Paired with skinny jeans, cognac toned riding boots radiate a relaxed, loose vibe. Ankle booties are quickly gaining popularity as a 2016 fall essential, thanks to New York street fashion gurus spotted with these shoes. Riding boots are a perfect match for knit sweaters and colored denim.
Blanket Scarf
Wrapped over a thick cardigan or puffer vest, blanket scarves will keep you toasty while reflecting your modish style. Autumnal- hues like burgundy, green and plaid are perfect for any outfit at school or on the weekends.
Casual Dress
A casual dress in rich hues like burgundy, rust and emerald will mimic the leaves scattered on the sidewalks. With a ¾ sleeve length and hemline to the knees, a simple frock will be comfortable and in the school dress code.