I Miss The Band Already
Review of "The Family" by BROCKHAMPTON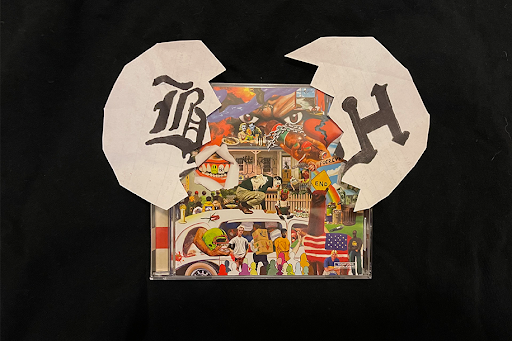 BROCKHAMPTON has always been an extremely special band in my life. While focusing consistently on topics including growing up, identity and feeling lost in our modern Gen Z times, every member simultaneously added a unique style and perspective to the table, constantly switching up with wild and creative experimentation and a bittersweet, yet optimistic tone, that always really spoke to me. Their music always has the perfect blend between pop sensibilities, hardcore hip-hop and moody bangers all wrapped up with a warm, West Coast feel. 
The group has been through a lot. Throughout some of their various controversies, including original member Ameer Van leaving the group due to allegations of sexual misconduct, and the looming threat of the band breaking up after releasing albums that some found disappointing compared to their original 'SATURATION' trilogy, many were wondering if the group was starting to fizzle out.
"The Family" is not technically their final album, as they released a collection of unreleased and remixed tracks the day after, but it is a definitive ending to the band and wraps up many misconceptions and rumors about the band in painstaking detail. With the album pretty much consisting of just Kevin Abstract rapping about how bitter and messy things have gotten between members, it's one of the most brutally honest albums I've ever heard, and certainly one of the few breakup albums that manages to be good in spite of the tension between members. 
Kevin is unapologetically himself throughout the album, with songs like "37th" and "The Family " detailing the anger, frustration and sadness occurring after the fallout of the band, all at once. It's clear that Kevin is so incredibly shaken by these events that have affected the band. It almost comes across as Kevin blatantly speaking to the band directly, especially on the final track where he directly names several members, placing the listener in this awkwardly messy and depressing situation. 
Other than the concept, the album also just sounds really good. There are a ton of very memorable highlights, including the super sweet "All That," the incredibly hard-hitting bass loops and jazzy samples combined with some of the best rapping on the album with the single "Big Pu**y" and the incredibly reflective and touching "Good Time." The project also throws a few curveballs in the mix, never exactly sticking to one sound or genre, which further highlights Kevin's creative and eclectic musical style.
This album might not mean as much to other people as it means to me, and I get that. It's difficult to understand exactly what he's rapping about if you aren't familiar with the band yet, which I understand could be a criticism for a lot of people. I would not recommend this as the first album to listen to from these guys. The "SATURATION" trilogy is a lot more versatile conceptually and where most people discovered them, including me. However, to me, it's an extremely moving album and surely one of the musical highlights of the year. Losing friends or having to move on is a struggle held by everyone, and this album is one of the most sincere depictions of that, to the point of highlighting flaws in the situation and Kevin's character. No one is perfect, and that's why I loved this. 
"Pack up my bags, I know it's time to leave/the show is over, it ended overseas."