Local Madness at Mueller
Review Over Texas Farmers' Market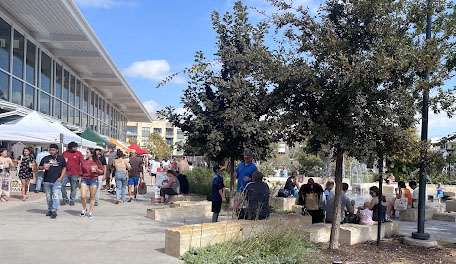 Bustling people walk past with smiles on their faces and hands full of fresh fruit or freshly squeezed lemonade while trees provide much needed shade. The booths surround bright, lively grass and benches and tables, which are situated right next to the numerous food vendors. The Texas Farmers' Market at Mueller is the perfect way to pass time. The Market is open from 10 a.m. to 2 p.m. Sundays with many booths and people to interact with.
Located at the Branch Park Pavilion on Philomena Street, the market is held in a very open space with a lot of pets ranging from dogs to pigs.
Yes pigs. There was a woman walking around a potbelly pig on a leash. It's a great place to go with friends, family or both. The atmosphere feels brighter and more inviting at Mueller. Kindness is something that's also shared during the market; people are constantly throwing compliments at others. I was constantly complimented on my jeans, which made me want to compliment others, so I did, putting me in a good mood from the very beginning.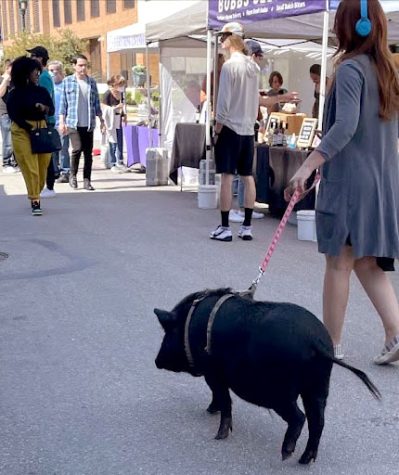 For me, one of the most enticing parts about the entire experience was the food. With a large selection varying from decadent chocolate croissants to flavorful chicken shiitake dumplings, there's food available for everyone. I bought a butter croissant from Julie Myrtille Bakery and it was one of the best croissants I've ever had. Each bite I took melted in my mouth, and before I knew it, the croissant was gone. Any time you walk relatively close to the collection of booths, the tempting smell of food being freshly cooked wafts through the air. It's easy to lose track of time staring at all of the different dishes being prepared in front of you.
Everywhere I looked, I noticed everyone was holding the same cup of lemonade. The more I looked around, the more cups I found being happily sipped by the patrons of a booth named CTRUS. All of the lemonade was priced at $6 and there was only one size you could buy. Since I was thirsty, I decided to see what the hype was about, and bought their Strawberry-Blueberry lemonade. I'm so glad I did, because it was absolutely delicious: the perfect balance of sweet, refreshing and sour. If you're a lemonade lover, then this is the perfect booth to visit. There was also enough to sip for the next hour of my stay there.
Along with food to eat, there was a plethora of produce to buy. Apples, persimmons, bok choy, cauliflower, really, anything I could think of. What made it great was that everything was locally grown and sourced. I talked to all of the booth owners, which was a lovely experience, as well. While, yes, they want you to buy what they're selling, most of them are just truly passionate about growing their own produce. Talking to all of the sellers made me realize just how much work was put in to get all of the produce to me. Every single vendor I talked to was incredibly kind, which added on to the enchanting experience I was already having.
Not only was there food and produce, there were wellness products too. There was Elderberry syrup and homemade kombucha, as well as ginger elixirs. My mom usually buys Elderberry syrup from wellness stores, since it helps with sickness. It usually isn't sold in regular grocery stores, so it was surprising to see it being sold at the market. Having such a wide variety of different things to buy made it easy to lose track of time while walking around. I drifted from booth to booth for a span of two hours and I didn't want to leave. I felt like there were endless activities. Plus, if your feet ever get tired or you just need a rest, there are many benches and seating areas situated around a fountain and lots of open grass areas where many people lay down blankets to have picnics.
Overall, the market is a wonderful place to spend your Sunday morning or afternoon. Once I finished making my rounds around the market, I realized that there are many places to eat around the Branch Park Pavilion. There's Kerbey Lane, Rebel Cheese, Hank's and many more. My personal preference is Hank's due to their delicious iced coffee and heavenly brioche doughnut holes.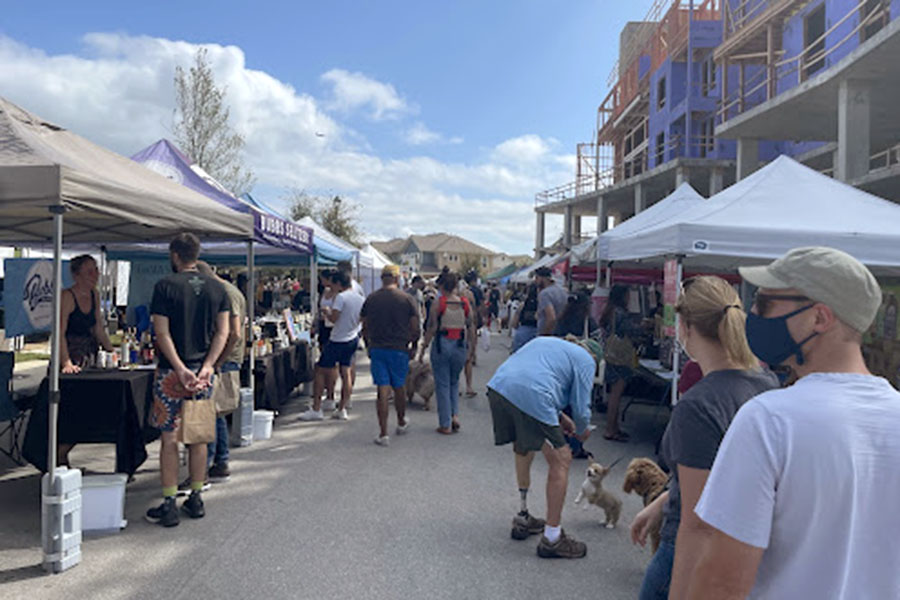 So the next Sunday that you have some free time, head over to the Texas Farmers' Market at Mueller for a day filled with fresh produce, delectable food, refreshing drinks and a delightful outing. I recommend that all high school students who want a cheap, care-free, and, most importantly, fun place to spend their weekend, go to the Mueller Farmers' Market. I rate my experience a 10/10, and the fact that I brought one of my best friends definitely turned it into an exciting adventure. The kind people, fresh air, variety of animals, food and produce created one of the most special days I've ever had. To anyone who decides to go, you need to try the lemonade from CTRUS, the baked goods from Julie Myrtille Bakery and Steamies Dumplings, who made some of the most flavorful dumplings I've ever had. All that's left to do is actually go.