Flames, Blood, Confetti
A Reporter's Experience at the KISS Concert
I have been to many great concerts in my life, such as Paul McCartney, Metallica and Lil Wayne, just to name a few. However, going to a KISS concert is beyond any performance I have ever seen. This is especially cool since we got the tickets straight from Gene Simmons, the bass guitar player for KISS, himself. 
Over a year ago, my mom bought tickets to see KISS, which was then been postponed.  My mother posted about how she desperately wanted to attend on Facebook, and the next day she got a message from her friend Larry Latowsky. He said that he would be able to help because he knows Gene Simmons. I knew that they were performing in Fort Worth on Oct. 1. Latowsky sent a text to Simmons and a few minutes later, my mom received an email from his tour manager Steev Toth. We got free third-row tickets and backstage passes to meet the band. My whole family was in utter shock.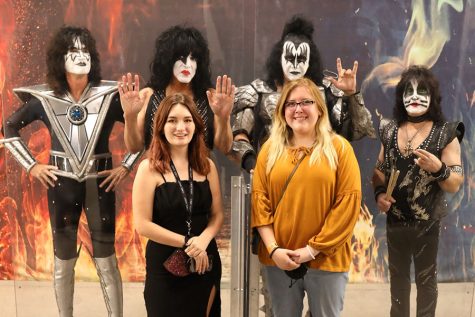 On Friday, I got off early from school and rushed to get ready. After three long hours of driving, we finally got to the arena. We parked and ran to will call. We were given our tickets, wristbands and instructions on where to go. We went to the south Reliant Club and waited. After 20 or so minutes, we were handed black masks and led down several flights of stairs. We waited in a long line underneath the Dickies Arena and were escorted to the front of the line after a few minutes to take pictures with the band. The band was wearing their iconic performance costumes: leather pants, platform shoes and face paint. The photos were rushed and the band members were behind plexiglass because of COVID-19. Despite this, the experience was incredible. The musicians had fun with all their funny faces and poses.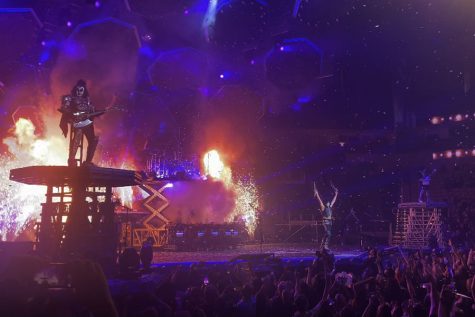 When the concert started, the curtains dropped and the pyrotechnics began. The setlist included some of their most iconic songs such as  'Beth,'  'I Was Made for Loving You,' 'Rock and Rock All Nite' and many more. I sang along to them all. If I'm being honest, I was screaming more than singing. I was dancing so much and only sat down when my legs were about to give out. I wanted to document the entire show because it was so exciting, but I fought the urge for the most part and tried to just absorb it all. One of my favorite parts was when the lead singer, Paul Stanley, who is 69 years old,  ziplined across the audience. I am almost eighteen years old and I could never do that.
The drummer and guitarists were lifted to the top of the arena with big fireballs were behind them. The guitarists flicked guitar picks and did suggestive dances. Simmons was lifted into the air as the big screens behind him closed in on his face. The 72-year-old musician had blood pouring out of his mouth as stuck out his famously long tongue.  It was kind of gross, but I could not look away. Stanley did what every person who loves rock music has wanted to do. While flames and explosions were going off behind him he slammed his guitar into pieces.
These band members are at an age where many would expect them to calm their show down and just sit and play their songs and maybe tell a story or two. Some concerts I've left feeling like I could have just listened to the music at home because there was no real performance. This concert was like watching a live action movie. There is something about watching living legends perform that makes you understand why so many people fell in love with them in the first place. Even if you don't love KISS, you would want to see this show.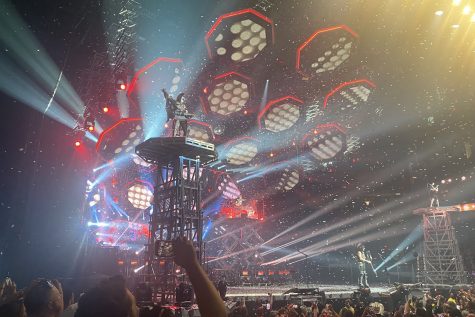 They did what most bands do towards the end of a concert. They faked leaving and had the lights turn out just to come back with a couple more of their most iconic songs. Big beach balls fell from the top of the arena and red and white confetti flew through the air. As all of this is going on, I put away my phone and just looked around. I thought to myself "I want to remember this forever." 
After a year of quarantine, political disagreements and so much distance, being in a room with so many people to celebrate music was amazing. There were thousands of people sharing an experience of pure pleasure. Flashlights in the air made the crowd look like a starry night. The way I know a show is good is if after it's over and I'm heading home, I feel like if this was my last night on Earth, I would be happy. It would be a great last KISS.